This document is a step-by-step guide for setting up the Kaseya BMS (Vorex) integration within BrightGauge.
Step 1 - Log in to your BrightGauge Account
If you haven't created an account yet, go here to get started.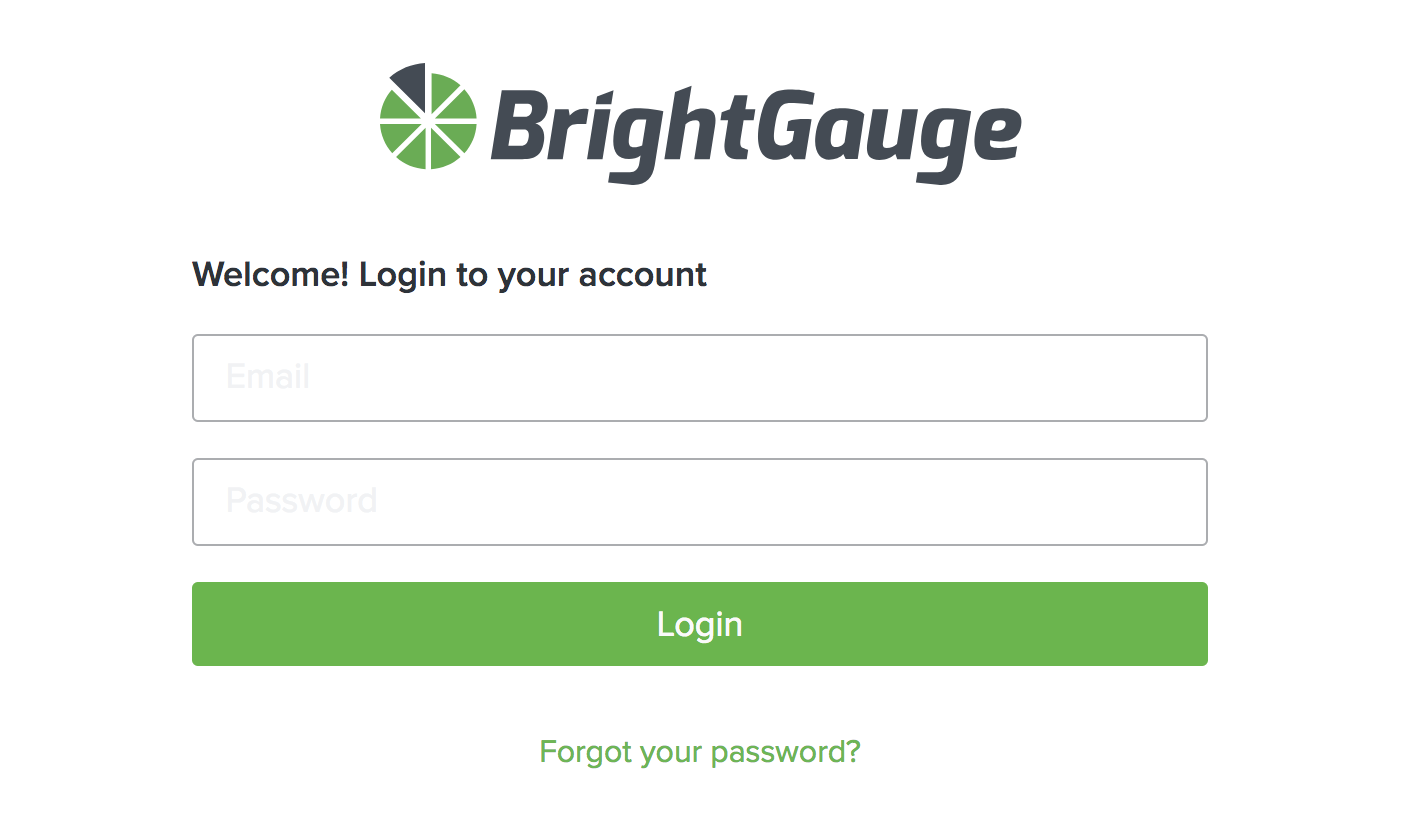 If you are logged in with a New Account:
From the account Overview page, click Add a Datasource: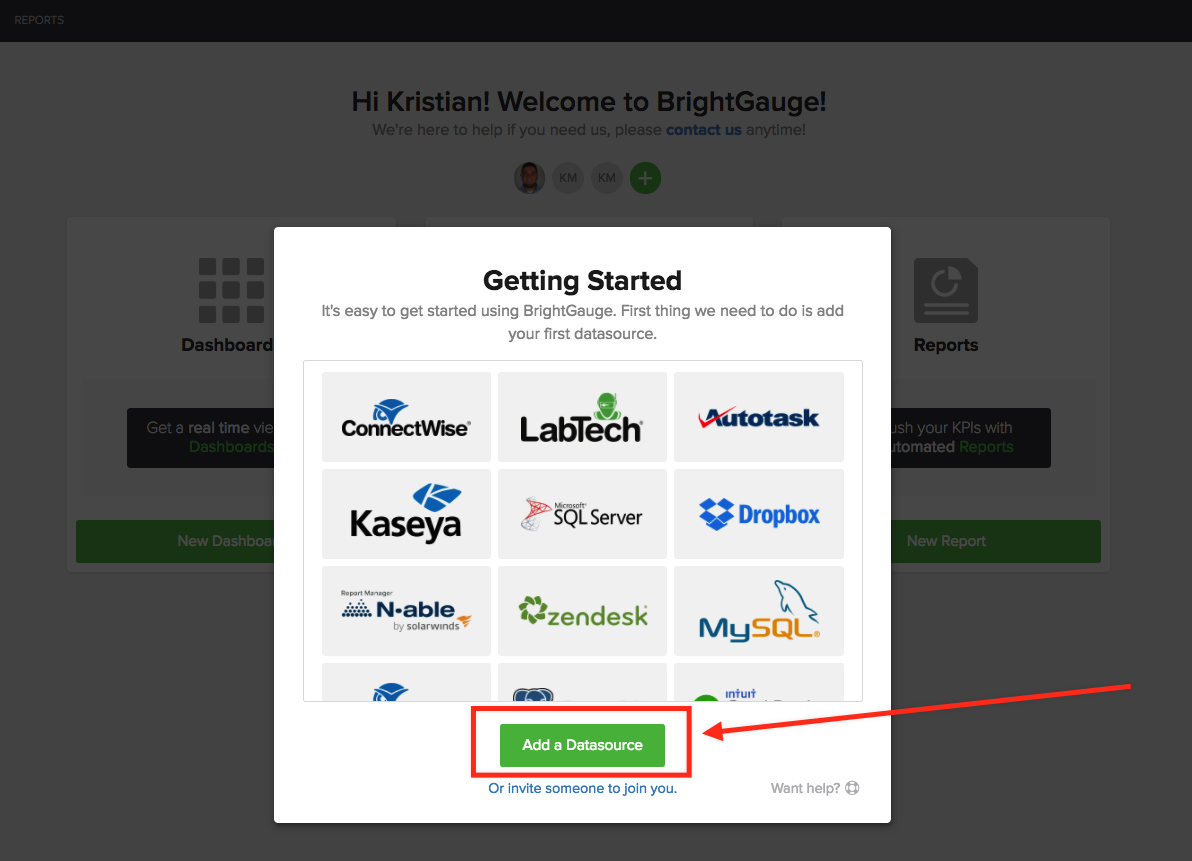 If you are logged in with an Existing Account:
Click on the Data menu at the top right-hand corner of the screen, and select Datasources from the drop-down menu: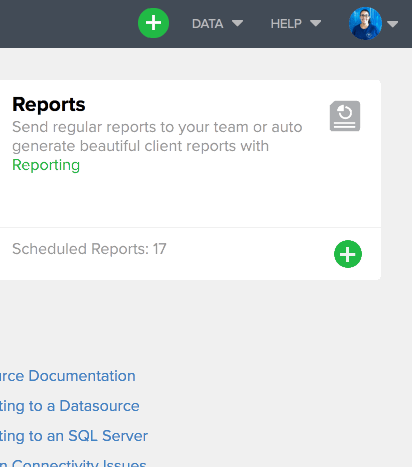 Find the Kaseya BMS datasource under All or under the appropriate category: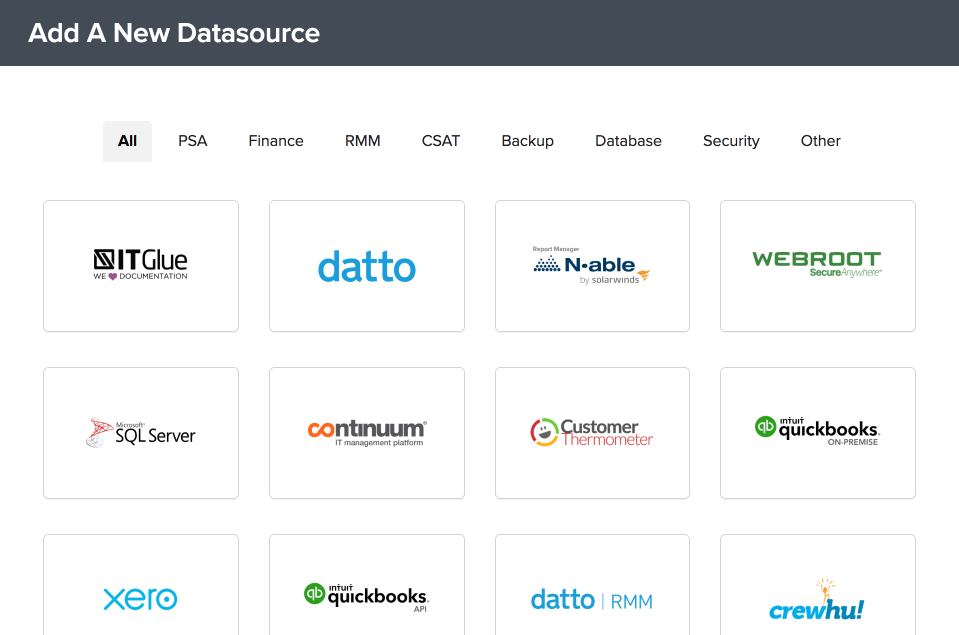 Step 2 - Log In With Your BMS Account & Configure Datasource
You'll now need to fill in the appropriate information.
Name - Name the datasource. This can be Kaseya BMS, Vorex, or anything you want
Kaseya BMS Server Name - this is the url you use when logging into Kaseya BMS. You have three options currently:
Vorex - www.vorexlogin.com
BMS US - bms.kaseya.com
BMS UK/EMEA - bmsemea.kaseya.com
Kaseya BMS Username - This should be the username you login as. Make sure this is associated with a root user, as other users can cause data discrepancies.

Kaseya BMS Password - This is the password you use to log in to BMS for the account in part 3.
Company Name - This is the company name you use to log in to BMS with.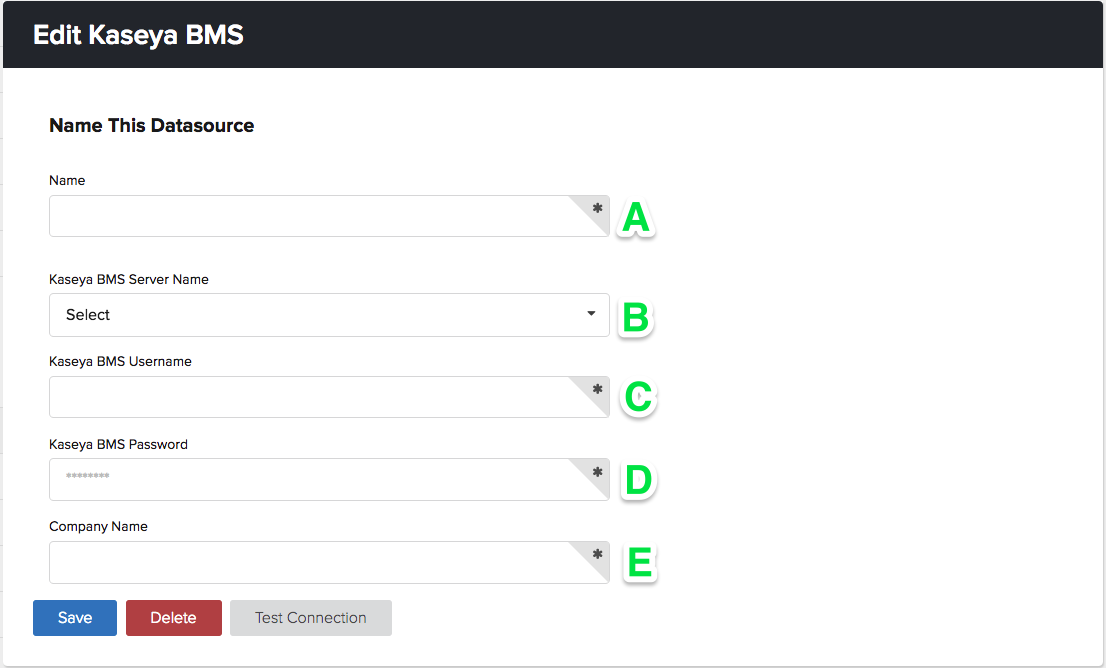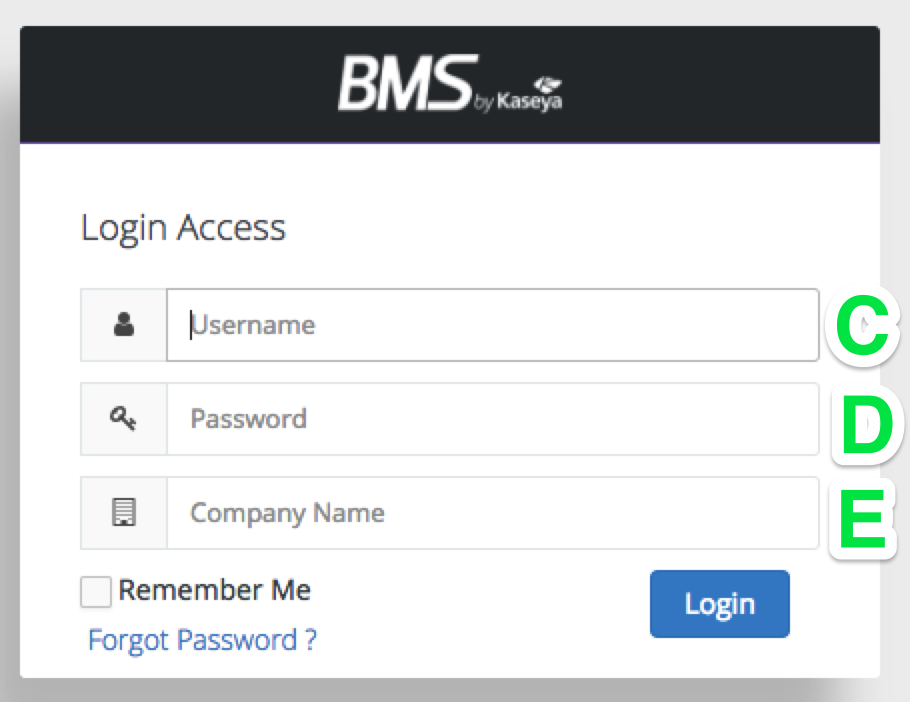 Step 3 - Test Connection
After you've filled out all of the fields, make sure to test the connection. If successful, save the connection.
Please note, a common issue we have seen clients experience is with the "AutoFill" feature in web browsers inputting the wrong credentials for the database user field. When a test connection is successful, the page is refreshed and the autofill takes effect automatically without the user realizing. The user then selects save, accidentally saving the autofilled credentials which are incorrect. A way to prevent this issue is to open a private browsing window (or incognito window) to fill out the datasource configuration page, or simply retyping the credentials after the test connection and clicking Save.
After you save the connection, datasets and gauges will be added to your account and they will start syncing immediately. Initial syncs usually take 20-30 minutes.
Dashboards, reports, datasets, and gauges will be added to your account after the datasource is saved. They will start syncing immediately and typically complete syncing after 20-30 minutes.
Your Datasets
Activity Data - Activities created or updated in the last 120 days
Contract Data - Contracts active (with an end date in the future) or that ended in the last 365 days
Hardware Assets - Information on all currently active hardware assets (has a status of Active)
Invoice Data - This dataset pulls in invoices generated in the last 365 days
Opportunity Data - Opportunities opened or updated in the last 120 days
Project Data - This pulls in all projects updated in the last 120 days or where Actual End Date is null (open project)
Recurring Services Contracts - This dataset returns recurring services contracts details
Software Assets - This pulls in all setup software assets within BMS
Task Data - Information on tasks created in the last 365 days
Ticket Statistics - Tickets updated in the last 240 days or without a completed date (open)
Ticket Stats Lite - This dataset pulls in tickets currently open (no completed date) or modified in the last 14 days
Time Entry - This dataset pulls in time logs with a start date in the last 365
Your Default Dashboards
BGS - Client Dashboard Template
BGS - Monthly Service Leaderboard
BGS - SLA Dashboard
BGS - Sales
BGS - Sales Rep
BGS - Service Board
BGS - Service Team KPIs
BGS - Service Ticket KPIs
BGS - Tech Dashboard Template
Project Task Data
Your Default Reports
BGS - Daily Sales Report
BGS - Weekly Sales Wrapup
BGS - Weekly Tech Wrapup
BMS - Executive Report Summary
For a list of all default gauges, please visit the Gauges section of your account, sort by the Datasource you'd like to see, and select for Default.
If you have any questions, please contact Support by selecting Help > Open a Ticket from the top menu bar.