Goals Overview
Summary

Outcome Based vs. Weekly Process Goals

Outcome Goals with No Targets

The Importance of Checking In

Who Has Access to Goals?

Emails

What Happened to Scorecards?
Summary
The Goals feature set was inspired by the book Traction and EOS (Entrepreneurial Operating System) with their weekly scorecards and quarterly rocks concepts. With that inspiration in mind, we built BrightGauge Goals to help companies take being data-driven to the highest level by helping them keep their teams accountable and aligned. Here are the highlights with more details below.
You can track any company, team, or individual goal in BrightGauge.

Goal progress is tracked weekly (Sun-Sat) and can be tied to a KPI (number Gauge) from BrightGauge or manually entered.

There are two types of Goals:

Weekly Process Goals

&

Outcome Based Goals

. Outcome Goals are those things you want accomplish by a later date and Process Goals are weekly goals you must accomplish each week.

Goals are assigned to a user who then "owns" the Goal.  

Goal Owners must "check in" to the Goal weekly to confirm the number and/or check in whether the Goal is On Track or Off Track.

Cells on the Goal will turn green or red when someone checks in.

Goals can be powered by number Gauges from BrightGauge or manually entered each week. For example, you may add a "weekly cash balance" Goal, but because BrightGauge does not connect to bank accounts you will need to check in the number manually.

Goals are not filtered by owner if they are powered by a Gauge, but data can be filtered at the Goal level.

Check-In Reminder Emails

go out over the weekend to everyone who is assigned a Goal.

Summary Emails

can be configured to email everyone on the Goal List after everyone has checked in, including people who are not assigned a Goal but still have access to the Goal List.

Viewers can be assigned a Goal to participate (no charge).
Outcome Based vs. Weekly Process Goals
When creating a Goal, you must choose a type of Goal you want to create.  There are two Goal types: Weekly Process Goals and Outcome Based Goals.
The best way to understand the difference between these two Goal types is an Outcome Based Goal is something you want to achieve or accomplish at a later date, whereas a Weekly Process Goal needs to be accomplished on a weekly basis. For example, you may wish to lose 5lbs over the next month. Losing 5lbs becomes the outcome you wish to see, but how will you get there?
Weekly Process Goals many times define how someone would get to an outcome. For the example of wanting to lose 5lbs, a Weekly Process Goal could be to walk 50,000 steps or run 12 miles. These are the weekly activities someone needs to do. Other Process Goals can be measured weekly just to keep an eye on how the company, team, or individual is doing. For example, weekly utilization rate above 85% for an engineer could be a Weekly Process Goal.
For our EOS fanatics out there, a Process Goal is your Scorecard KPI and an Outcome Goal is your Rock. Works like a charm! Feel free to customize the Goal List terminology to whatever you want.

Outcome Goals with No Targets
Many times, companies set goals that are not necessarily tied to a number target.  These goals are generally defined by several criteria and have binary results at the end of the time frame.  For example, "Train Sally to become HR owner" is a goal that has no number target.  It is defined by several criteria rather than a single number or Gauge.  In the Traction world, these are often called Rocks.  In BrightGauge when creating an Outcome Goal you can opt to skip the target number: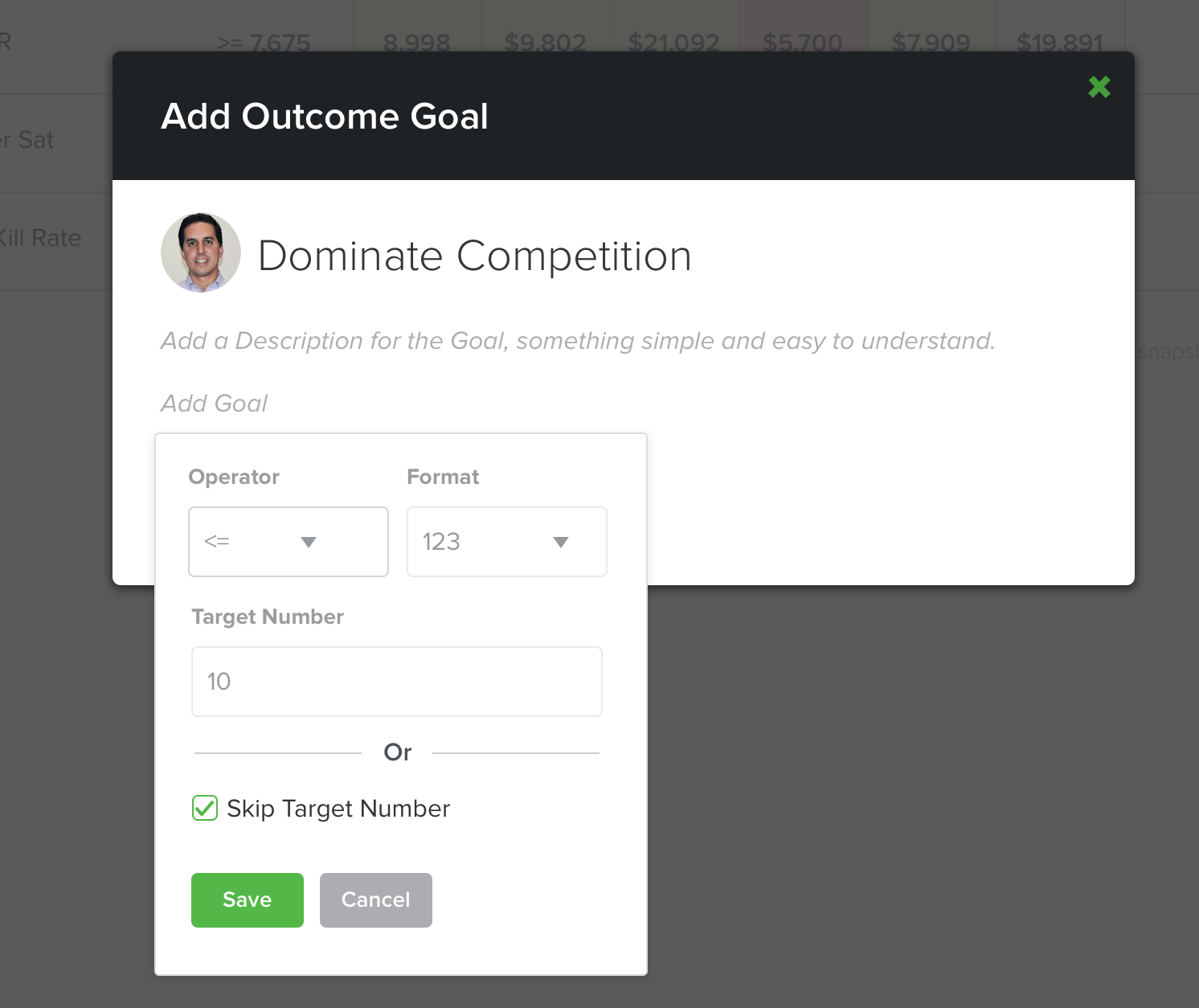 When checking into the Goal, you will be presented with the options of On Track or Off Track and that's all that will show in the Goal Cells on the Goal List.

The Importance of Checking In
The Goals feature does not work without participation from the owners of the Goal. Participation is the key difference between looking at a Dashboard (passively) versus owning a Goal (actively).  Check-ins enable companies, teams, and individuals to stay accountable and invested in accomplishing the important goals they set for themselves.
In BrightGauge, the cells of the Goals will change color (to green/red) when someone checks into the Goal. This means the Goal Owner must actively participate in confirming the Goal is correct. Best practices show that the Goal Owner must also provide context to their Check-in. This helps to create a sense of awareness for others on the Goal List of how things are going with that particular Process or Outcome Goal.  
Checking in is a behavior that needs to be promoted and supported from everyone on the team as it's the only way to ensure this kind of accountability.  
Who Has Access to Goals?
All admins have access to create Goals and Goal Lists. Once a Goal List is created, the admin can then share access to the Goal List with anyone else in BrightGauge, including the free viewer license. This menu can be found in the More Menu in the Goal List.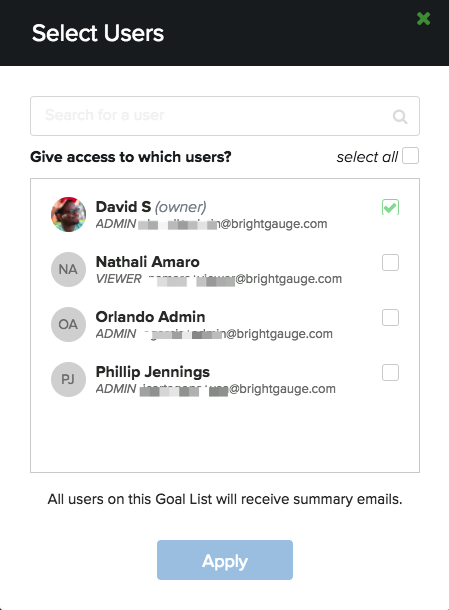 When a viewer is invited to own a Goal, they are automatically added to the Goal List and cannot be removed from the Goal List until they have been removed from the Goal or Goals they own.  
Having access to Goals, but not owning a Goal, is helpful because you can always see how Goals are progressing when in the app plus everyone on a Goal List will be emailed a summary of the Goal Check-ins from the previous week.
Emails
Currently there are two types emails that are associated with Goals:
Check-In Reminder Emails

Summary Emails
The first is a reminder that goes out on Mondays at 7am local time that tells which Goals are not checked-in from last week. If all of your Goals have been checked in then you will not receive this email. Otherwise you will receive one email with all Goals needing a Check-in,  across the Goal Lists you are assigned to.
The Summary Emails are very powerful as they provide a summary from the previous week's check-ins. You can configure these emails to go out at different times of the week from the More Menu. The Summary Email will go to anyone who is on a Goal List, whether or not they own a Goal. This is hugely valuable to keep multiple teams, managers from other departments, CEOs, and board members in the loop with each other. The Summary Email includes the Check-in Context and will look similar to the following image.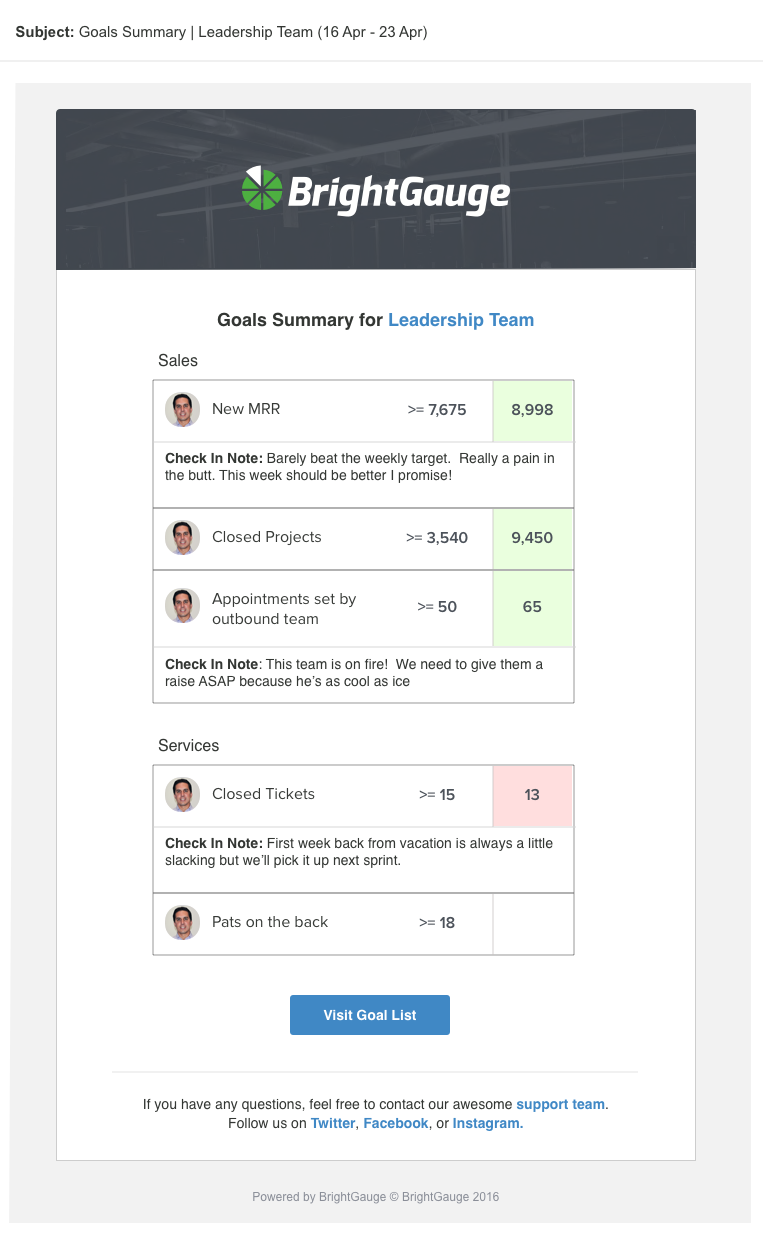 What Happened to Scorecards?
In November 2016, we launched a new feature named Scorecards which was inspired in part by the book Traction.  (We love Traction and highly recommend it for medium to small businesses.)  However, after our beta testing we found that many of our customers were confused by the term Scorecards. After research, we decided to change the name of the feature set to Goals, which is more universally understood.