User Management
There are three types of users within BrightGauge: Admins, Viewers, and Analysts.
Admins: Have full access to build and manage your BrightGauge account; this includes managing the permissions of Analysts and Viewers. Standard Plans includes 2 Admins, the Enterprise Plan includes 3 Admins.
Analysts: Unique to the Enterprise Plan, Analysts are Admin users with reduced rights, limited to building and managing data from ONLY the Datasets an Admin grants them permission to access. Analyst users count the same as Admin users - 3 for Enterprise Plan.
Viewers: Users who have read-only access to ONLY the Dashboards and Goal Lists that are shared with them. Every account has an UNLIMITED number of Viewer user allowances and you have the option to allow users to toggle dashboard filters - perfect for sharing Dashboards and Goals with team members or clients.
Adding Admins & Analysts
Select Users from the Your Account dropdown menu on the top right hand corner of your browser

Select Invite User

Fill out the contact info, select the desired User role, and if you'd like, customize the welcome message

If creating an Analyst User, you'll be prompted to set Dataset permissions. If you ever need to expand or restrict permissions you can make adjustments any time you'd like by editing the User. Below is an example of how an Analyst's rights may be limited:

In this example, the Analyst has full access to the ConnectWise Manage datasets with limited access to QuickBooks.

Once you've selected their access rights, just hit 'Send invitation' and their login credentials will get sent to them via email with a username, a temporary password, and the link to your BrightGauge portal.
It's an additional $25 a month for each Admin or Analyst user seat you add. For help adding more users to your account, reach out to
BrightGauge Support
.
Editing & Deleting Admin and Analysts
In the same area where you add new users, you may change a user's role, expand or restrict Analyst permissions, or delete a user from your account.
From your Users page select the User you want to edit or delete.

Make any desired changes to contact information. If changing Role from Admin to Analyst, remember to set the Dataset permissions.

Once all changes have been made, select "Save".

If deleting a user, know that action cannot be undone. All Gauges, Report Templates, and Dashboards created by the user will remain on the account.

When adding or deleting a user, you will be notified on how the change affects your monthly billing.
Adding Viewers
Select Viewers from the Your Account dropdown menu on the top right hand corner of your browser.

Select Invite Viewer

Fill out the contact info and select which Dashboards the Viewer can access

Once a Viewer has been created, you can also add/remove them directly from any given Dashboard.

The user will then receive an email invitation with a username, temporary password, and sign-in details. At first sign-in, the user will be prompted to create their own password



If you would like a viewer to be able to toggle dashboard filters select that option before saving.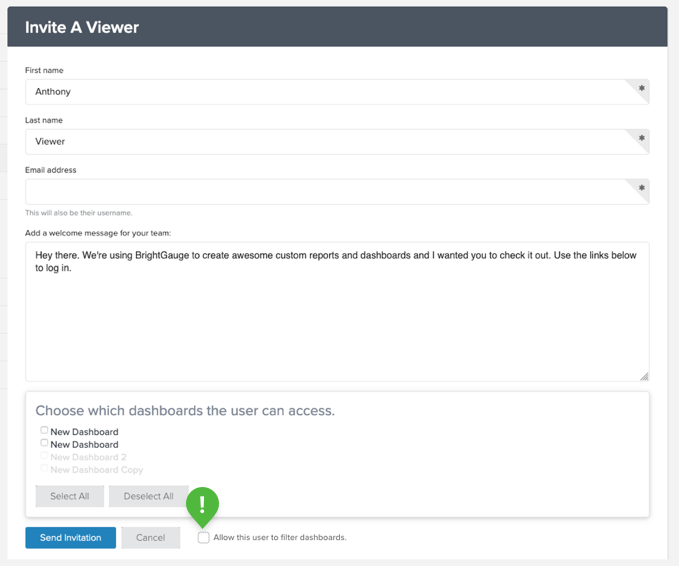 Allowing a viewer user to filter a dashboard gives that user access to toggle any existing filters on that dashboard as well as any data associated with those filters. Be sure you know what data is being shared before proceeding.