How to setup client mapping
The following is an overview of how to setup client mapping. You may wish to use client mapping when you have multiple datasources where a client's name may appear slightly different across each of them. Client mapping helps tell your data how to parse your information based on each client. This is especially helpful for when you're putting together client reports and need to dictate who receives what reports. 

 
Access "Clients" Page
Once logged into BrightGauge, click on "Data" on the top right corner and select "Client Mappings" from the drop down menu.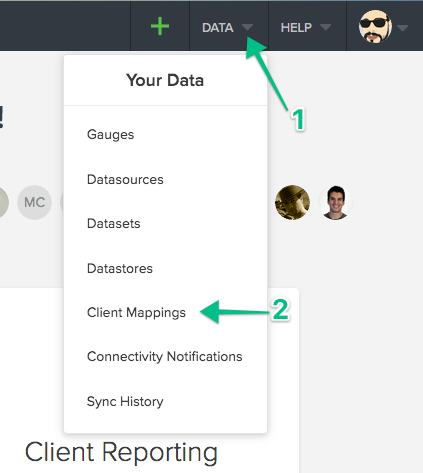 Adding Client mapping
To add a new client click "Add a Client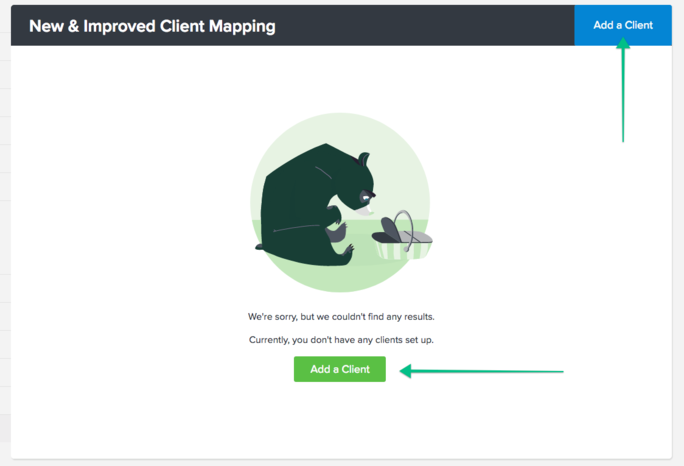 Use the auto mapping search bar

When the modal opens you can name the mapping and search for the client using the search input. This will search through your selected integrations.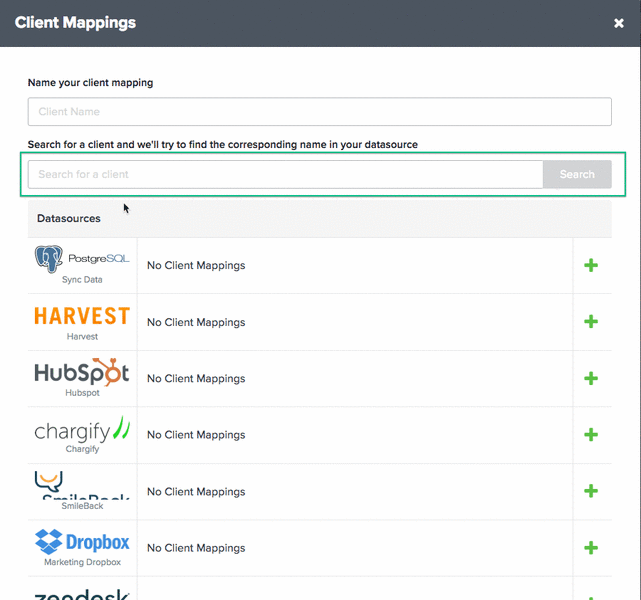 Single mappings (client pill)
If the search finds a match it will show as a client pill similar to the linked filter pill. If it matches incorrectly you can remove the pill by clicking the "x" icon.

Single Datasource Search 

If the auto mapping search does not provide a result or an incorrect mapping click the "+" icon on the datasource row. In the search bar proceed to enter the name for this client EXACTLY as it appears in the corresponding datasource database. It will search again and you can select the appropriate one from the drop down list.

If a client has multiple names for the same datasource (bundling child accounts into a parent account or multiple sites into one account), you can use this method to combine all of them.  

Make sure to check the names across all datasources. If you are mapping multiple accounts into the same client, you'll have to search in each datasource. 
Once all selections are made, make sure to save the edits by clicking on the "Save" button at the bottom.


Editing/Deleting

Once a client mapping is created you can edit or delete it using the 3 ellipse (more options) menu on the right.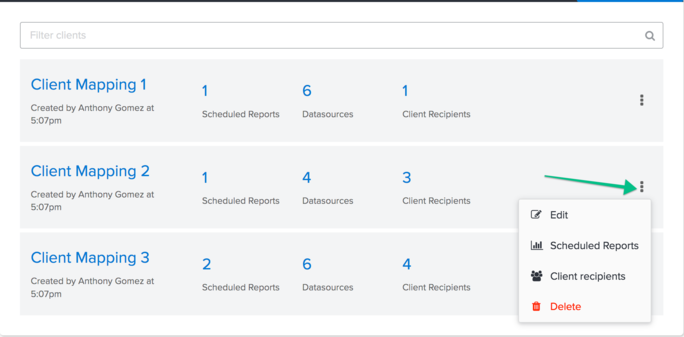 Adding & Editing Client Recipients 
Use this feature for when you'd like to add individual client emails to have reports emailed directly to them. Use the 3 ellipse (more options) menu on the right and click on "Client Recipients".
Add new or existing clients. Start by typing the client's name or email address.  If you already have them as a recipient or contact in your account, then it will show those results. If you want to add a user that's not listed, use the form below the user listing window. You can add as many recipients as you would like. You have unlimited viewer licenses that may be used. 
Adding clients who aren't listed


Client Mapping for Custom Datasets
If you're building custom datasets that will be used with clients, make sure to map the appropriate field to use with the filtering.  Please make sure to use a field that will be the same across the datasource.  Please make sure that the field you're selecting is of the same field type across the datasource.  If you're selecting numbers in one dataset and text in another, this will break the client mapping and could possibly lead to data leakage in client reports.
Pulling in the Correct Client Field in Your Dataset (Specific for Your Datasource)
If you're creating a custom dataset from a featured integration, here are the specific fields and their table that we're pulling so that you can add it into your own as well:
ConnectWise
field: company_name
table: company
TigerPaw
field: AccountName
table:  tvw_SOListView
LabTech
field: Name
table: clients
Kaseya
field: orgname
table: kasadmin.org
N-Able
field: CustomerName
table: dim_customer
QuickBooks
field: name
table: customer
When you create a custom dataset, you'll be prompted to select the field name in your dataset that you want to use for the client mapping.
Selecting a Client Column for Mapping on a New Dataset
Step 1 - Create the dataset
You will need to create your SQL dataset and make sure it follows the requirements set forth in the document here.  Test your query, make sure there are no errors, and then click on the save button (the save button will only appear once all errors are removed).
Step 2 - Choose the Client Column
When you click save, a modal will pop up asking you to select a client column or skip & save dataset.  If you're in this document, you'll want to select a column, however you can skip & save and select the client column later if you desire (see section below).
Make sure the client column you select is the appropriate column otherwise the mapping will not work or could potentially cause gauges to show the wrong data.
Step 3 - Save the dataset
After selecting the client column, click on the save button and you're all done!

Selecting a Client Column for Mapping on an Existing Dataset
Step 1 - Find the custom dataset you created
Go to your datasets page, find the custom dataset you created, and then click on it's name to go to the dataset editor page.
Step 2 - Select the client name field
Once in the dataset editor, look below the dataset settings fields, but just above the SQL editor and you'll see a Client Column dropdown box.  This box is pulling the column names from your dataset.  Click on the dropdown and select your field.
Step 3 - Test and save your dataset
Once you've selected your column, test the query and re-save your dataset.  Make sure to address any errors that may popup.  Once you click save, you're all done!