Regular reporting is a great tool for every MSP to show the value they are providing to their customers and keep up good relations with them. This document covers everything you need to know on how to create automated client reports in BrightGauge.
Here is the summary of the steps for setting up client reports:
Create Client Mappings telling BrightGauge how your customer's company name shows up across your connected datasources. This will help you to create a single scheduled report that will be filtered out and sent to multiple clients.
Add your client recipients under client mappings. A report cannot be sent to a person not listed in your account. You may share with admins, analysts, viewers, and client recipients.
Click the green "+" at the top of your account, selecting for "Reports".
Select Customer reporting and select all customers you would like to have receive that report. You may do the same if you want to create reports specific to a customer for you to share internally with your team.
Customize.
Schedule or send now.
Step 1 - Set Up Client Mapping
The first step is to set up client mappings for each of the customers you plan on sending reports to.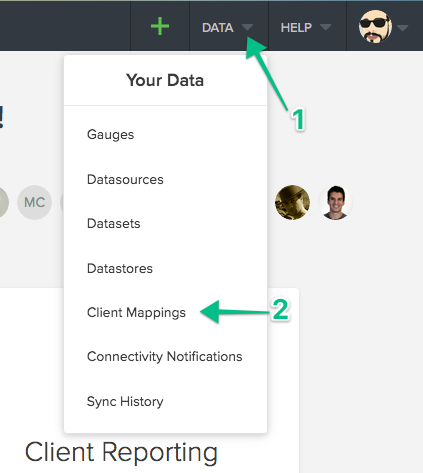 This step teaches BrightGauge the names of your clients in each of your datasources.
Adding Client mapping
To add a new client click on "Add a Client"


Use the auto mapping search bar
When the modal opens, name your client mapping in the first field (this name will be visible to your client). You can then search for the client using the search input. This will search through your selected integrations /datasources.
Mapping Results
If the search finds a match it will display the amount of results found in each datasource. Clicking the integration logo card on the left will allow you see the listed company mappings found under that datasource.
If the name doesn't match correctly you can remove it by clicking the "x" icon.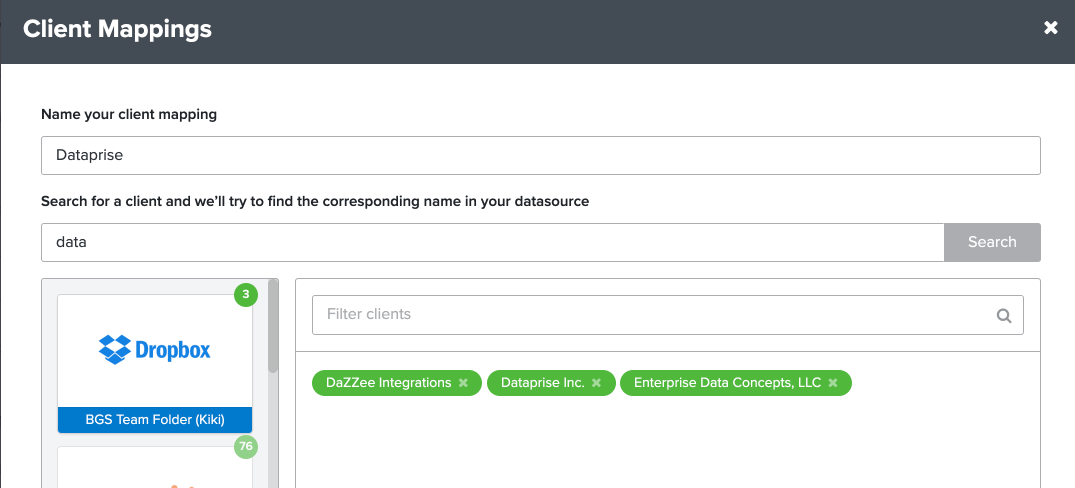 Single Datasource Search
If the auto mapping search does not provide a result or shows an incorrect mapping, click the "+" icon on the datasource row. In the search bar proceed to enter the name for this client EXACTLY as it appears in the corresponding datasource database. It will search again and you can select the appropriate one from the drop down list.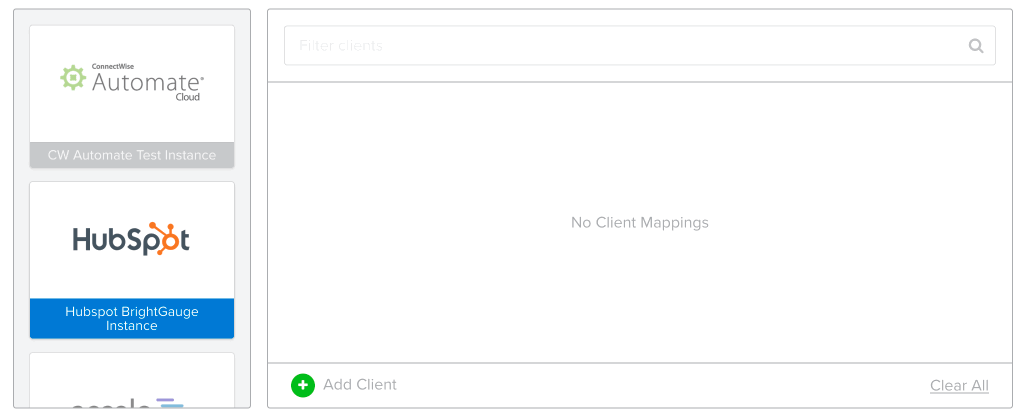 If a client has multiple names for the same datasource (bundling child accounts into a parent account or multiple sites into one account), you can use this method to combine all of them.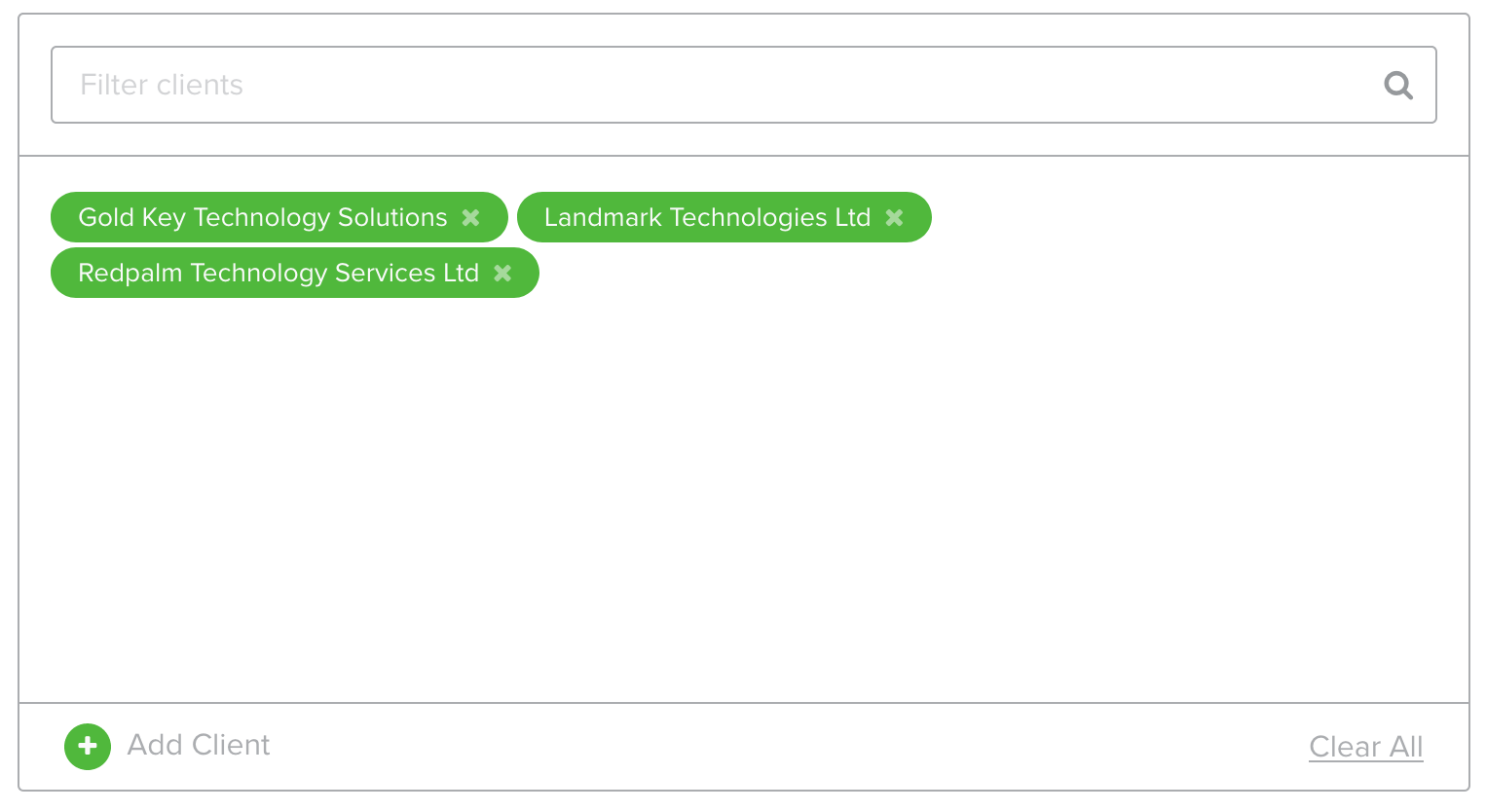 Make sure to check the names across all datasources. If you are mapping multiple accounts into the same client, you'll have to search in each datasource.

Adding clients who aren't listed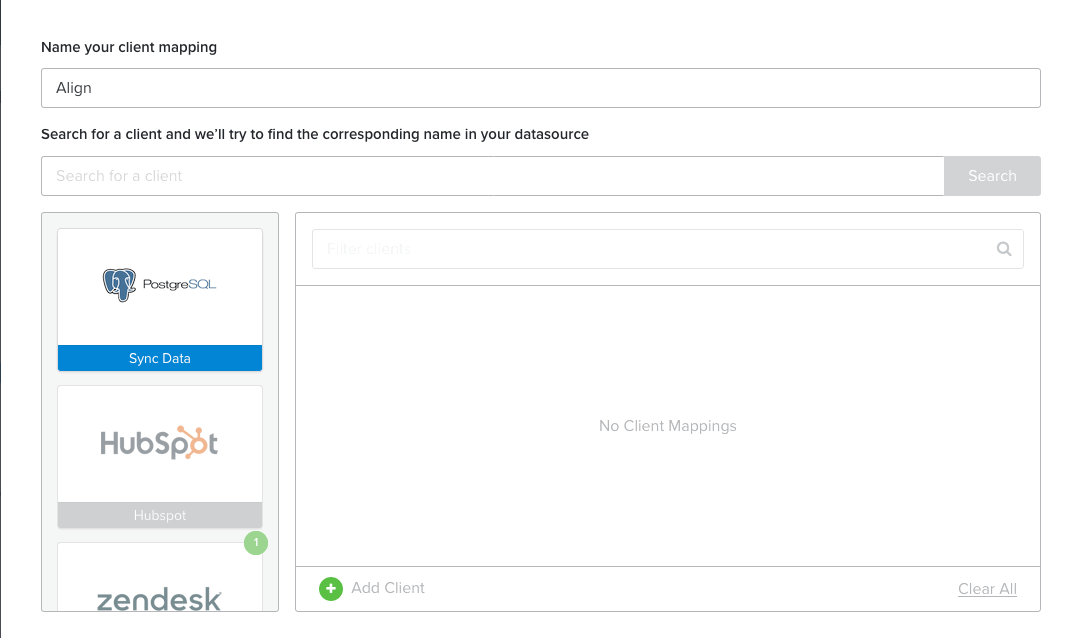 Editing/Deleting
Once a client mapping is created you can edit or delete it using
the 3 ellipse (more options) menu on the right.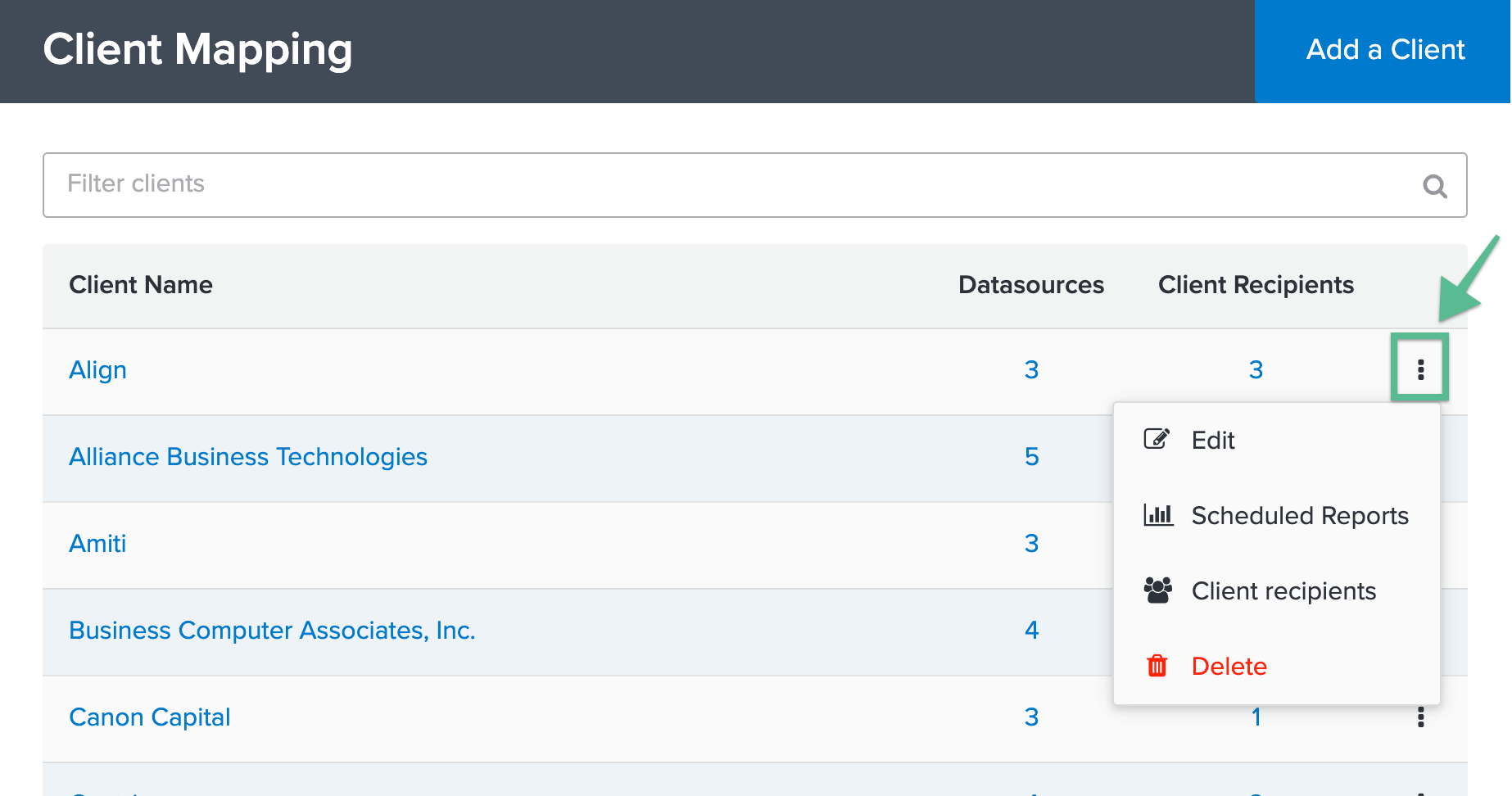 Step 2 - Client Recipients
The next step is to assign recipients (contacts) for this client. This is only needed in order to have reports emailed directly to them. Use the 3 ellipse (more options) menu on the right and click on
"Client Recipients"
to launch the modal.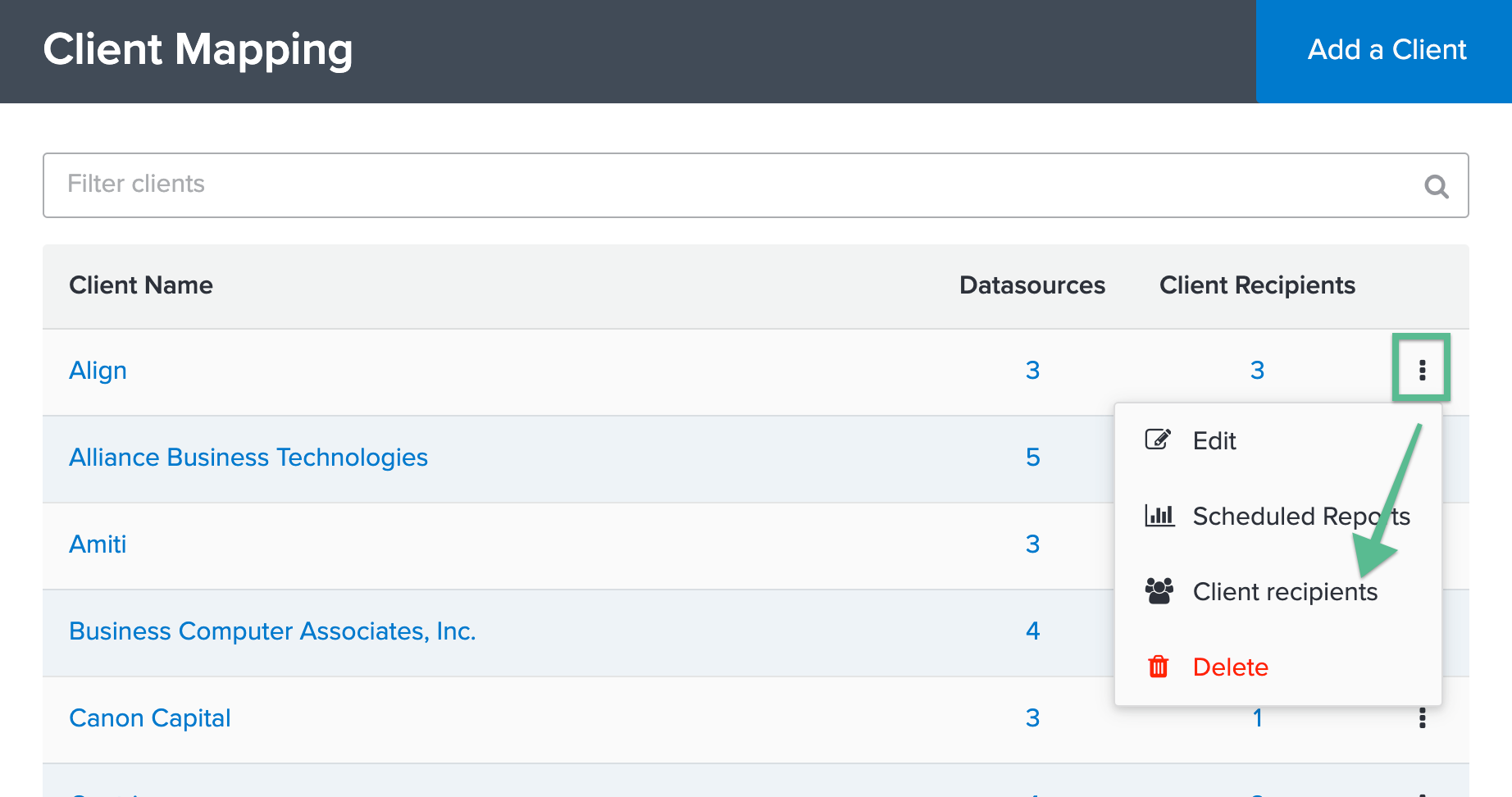 Start by typing the client's name or email address. If you already have them as a recipient or contact in your account, then it will show those results. If you want to add a user that's not listed, use the form below the user listing window. You can add as many recipients as you would like.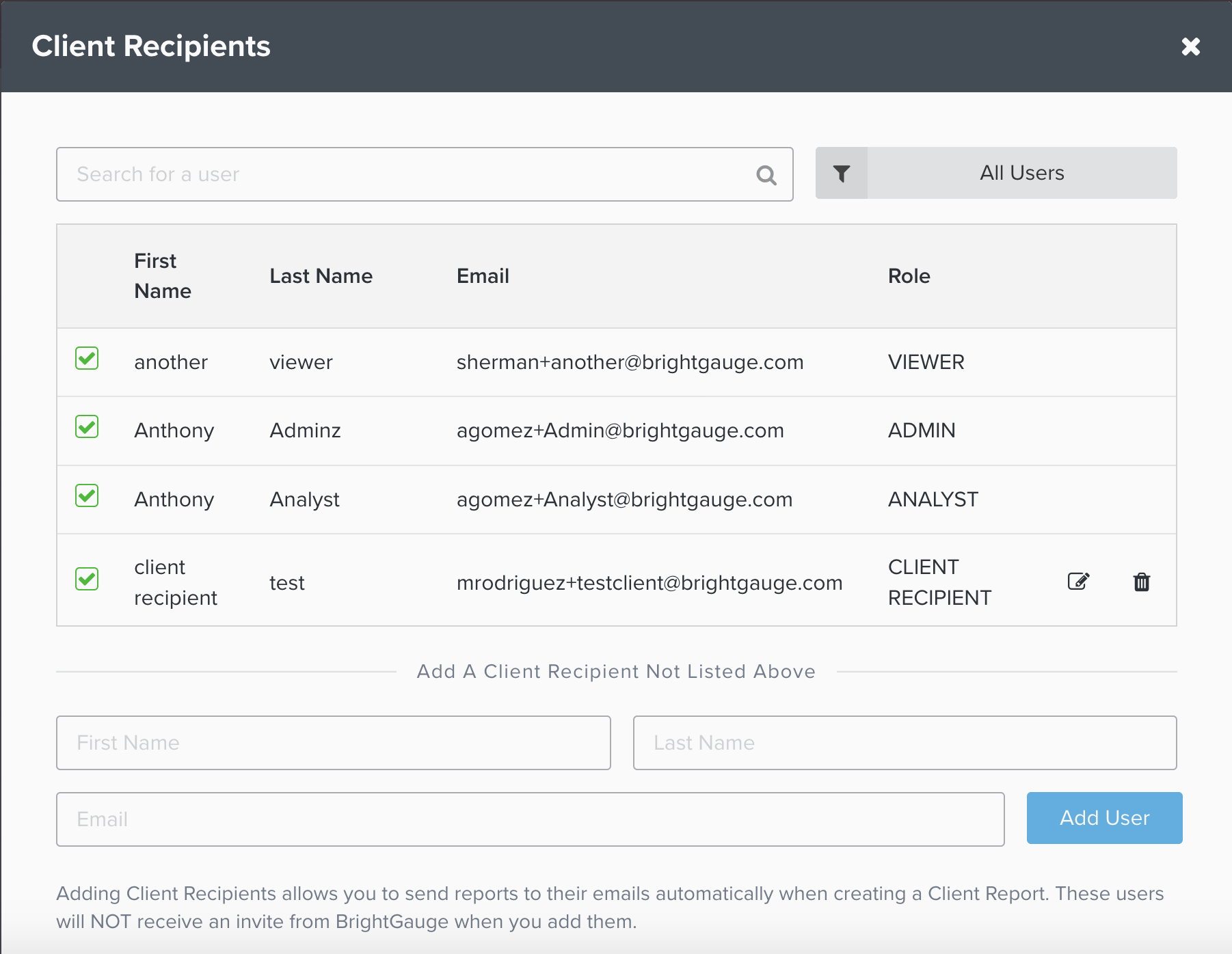 Step 3 - Create a Client Report
Below are the specifics on how to create a report for clients.
To create a client report, click on the green "+" at the top of the page. Select "For My Client" and choose all the clients you'd like to send one report type to.
Select whether you'd like to "Start From Scratch"or "Start From a Template"

Select gauges from the side panel. Use the search bar for faster sorting by gauge name or dataset name. You may rearrange and drag to resize these. You'll notice that all gauges appear in reports, just as they do on dashboards, with the exception of number gauges to keep them in a readable format.

You can choose to show gauges from one or multiple datasources. This is great for when you're sending an executive summary and want to provide an overview of the overall health of a company.

View a preview of what each client will see.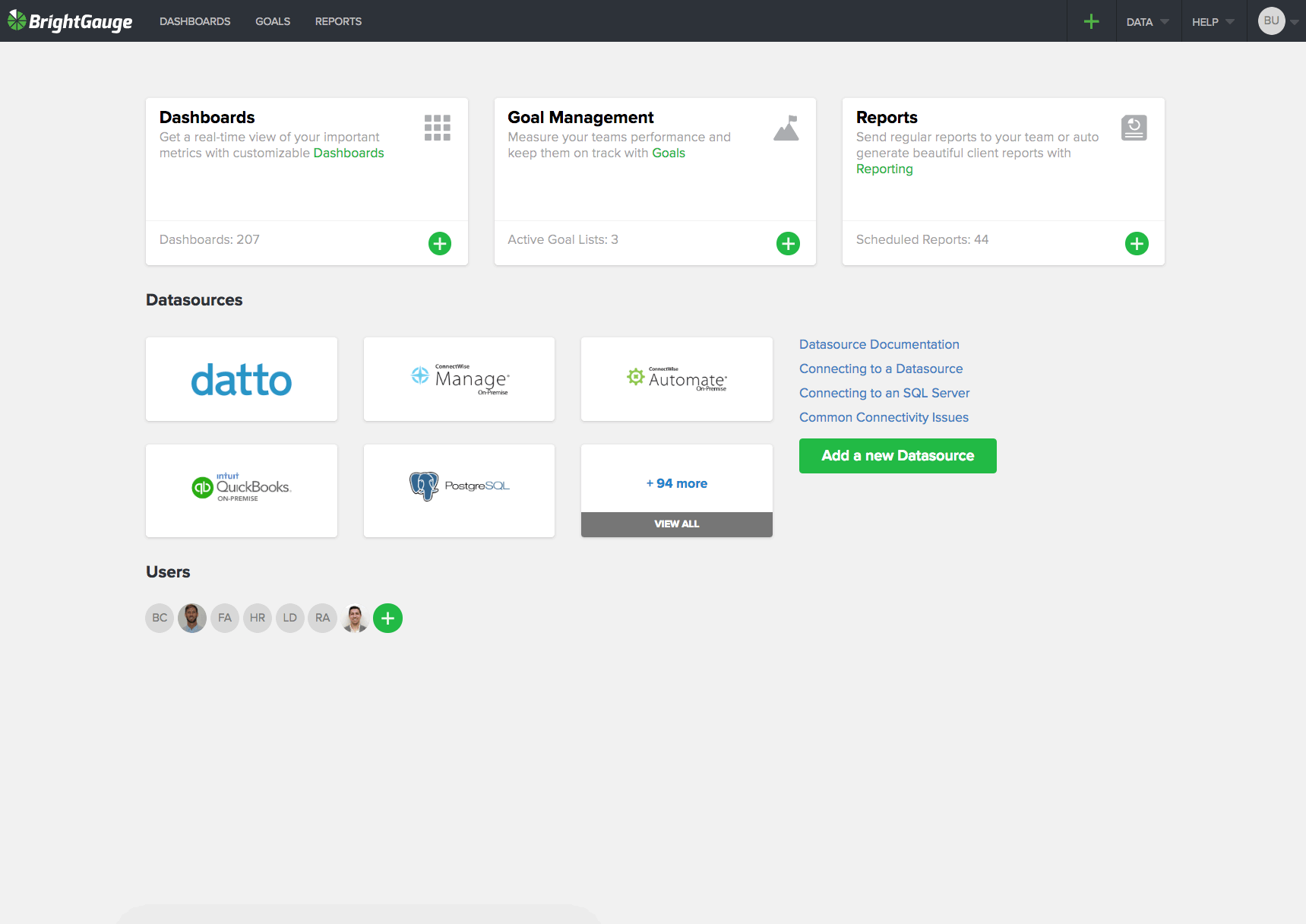 Note: This article covers everything related to creating a report for team members (internal report).
Placing your cursor on the "To:" or "Cc:" section will expand a dropdown menu that will show all users and viewers you have created in BrightGauge. You can search for desired users by typing their name, or simply scroll through the users populated in the drop down list.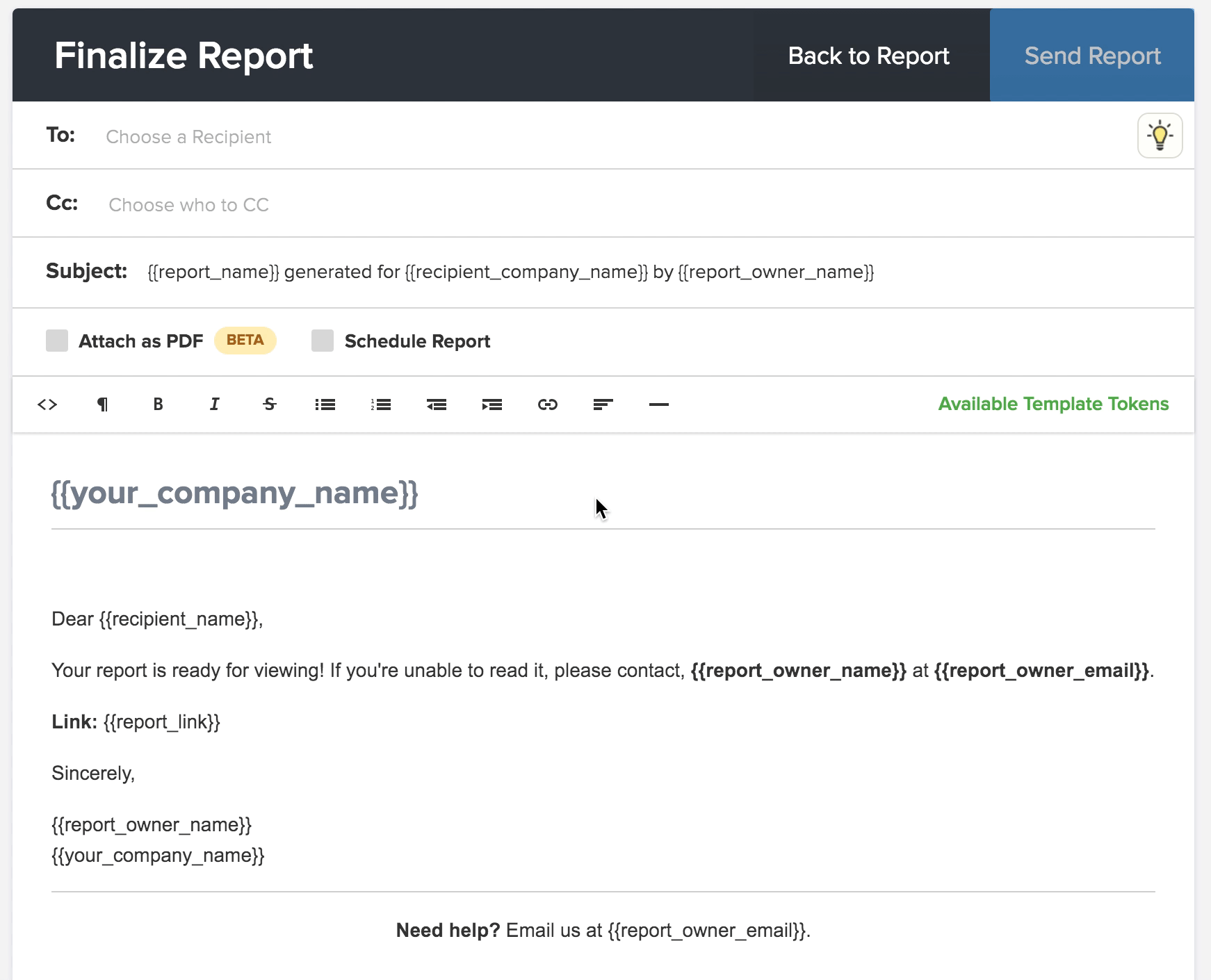 When creating a client report, there will be a line for 'All Client Recipients' in the drop down list. Selecting this option will send the already filtered report to the associated Client Recipients for the selected clients.

With regards to the "CC:" section, any user listed here will be copied on all report emails sent to those recipients specified in the "To:" field (this includes "All Client Recipients").


Step 5 - Schedule Report
You can schedule the report to be sent out to your recipients regularly. Once you have set the desired schedule, click on the "Update Report" button to apply the settings.