This document is a step by step guide for setting up the ConnectWise Manage Cloud integration within BrightGauge.
Step 1 - Log in to your BrightGauge Account
If you haven't created an account yet, go here to get started.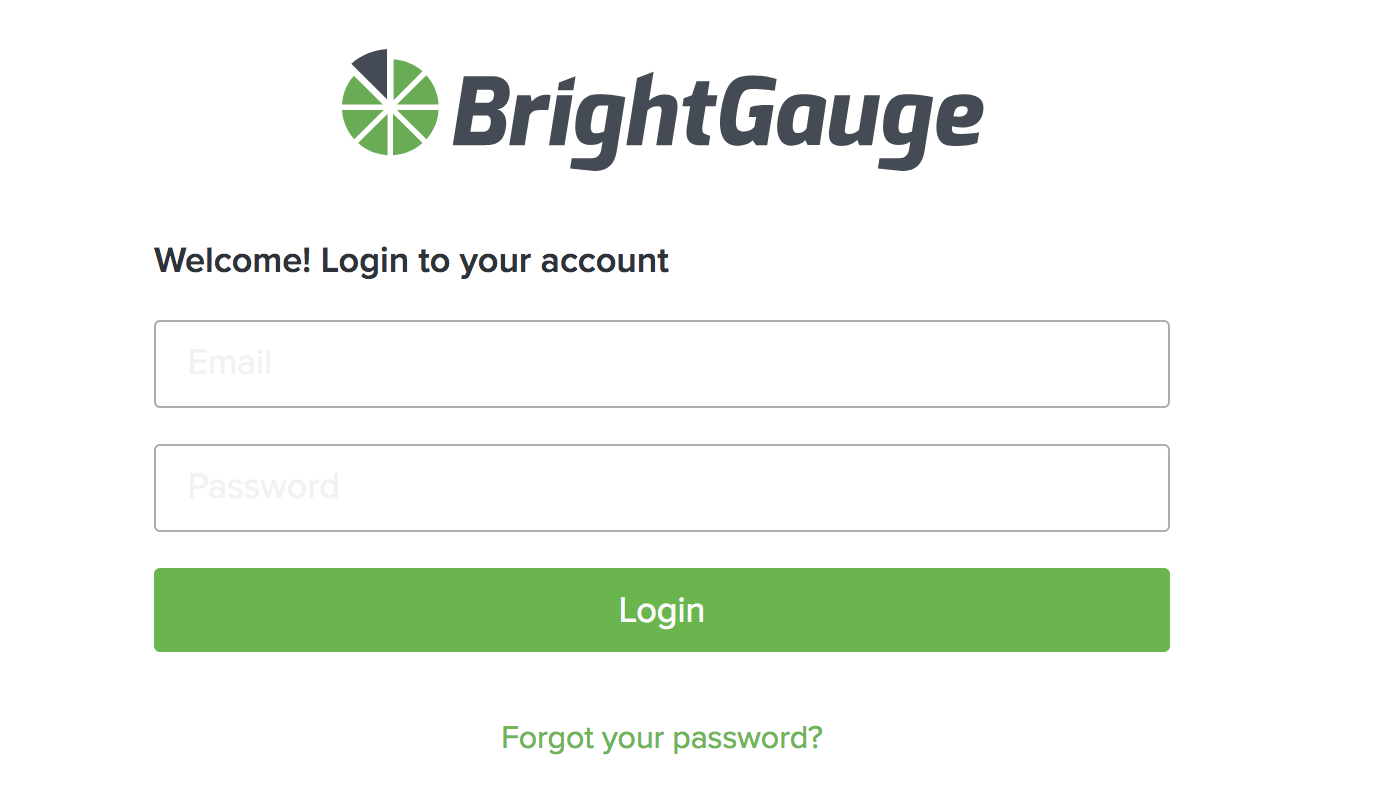 Once logged in, to get started:
On first login, from the account Overview page, click on the "Add a Datasource" button: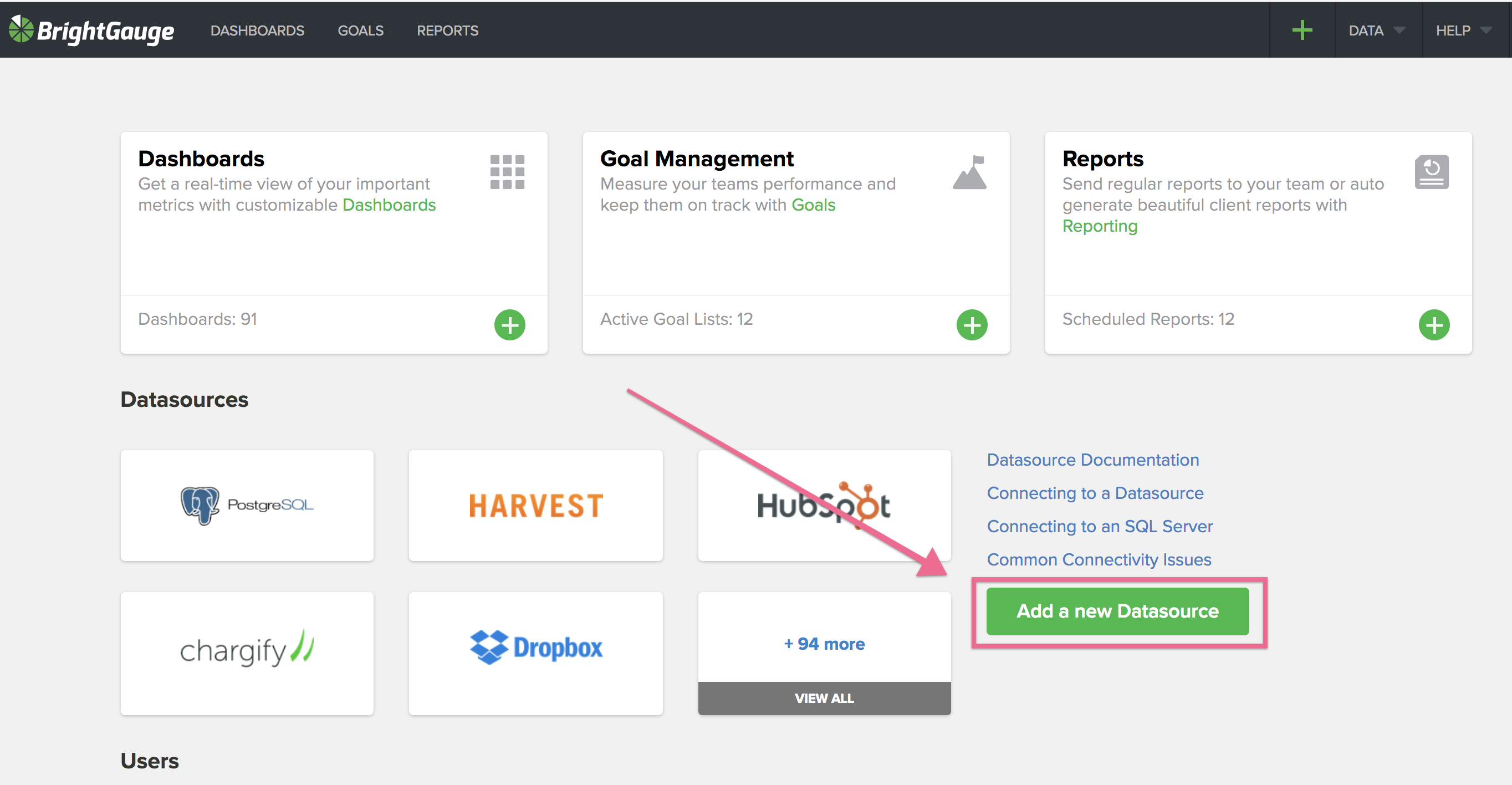 Click on the "Data" menu on the the top righthand corner of the screen, and select "Datasources" from the drop down menu: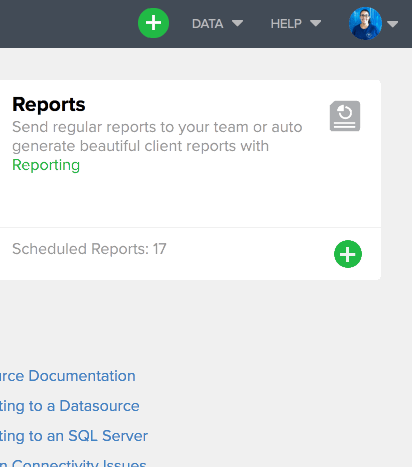 Find the ConnectWise Cloud datasource under "All" or under the appropriate category: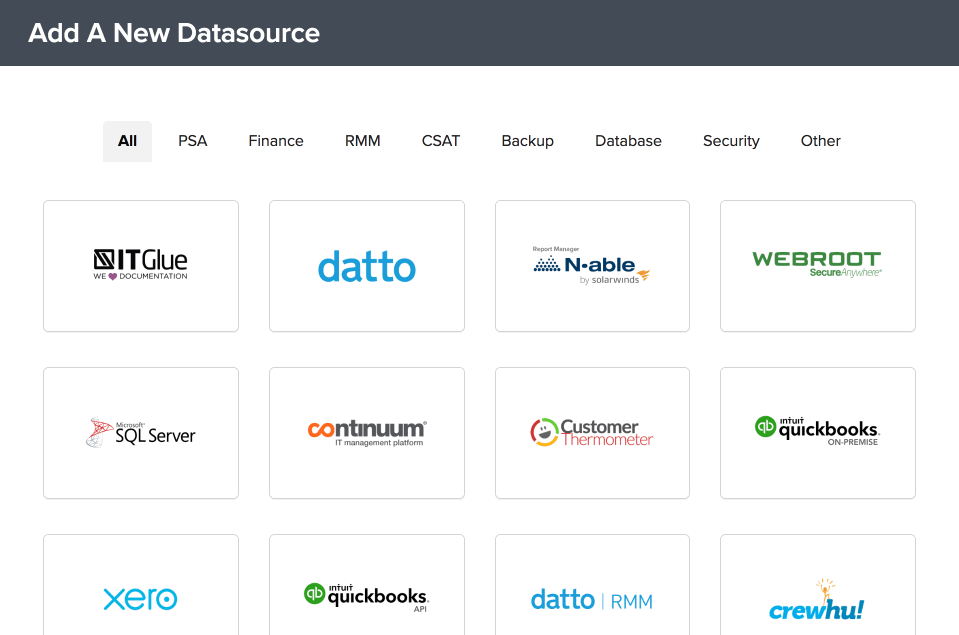 Whether a new or existing account, you'll come to the following screen. Leave that open while you proceed with Step 2
Step 2 - Create a REST user within ConnectWise Manage
Login to Manage using the desktop application. This process requires creating a new member, which can only be done through the desktop application, not the web browser
Click on the System section to the left (#1) and then click on Members (#2)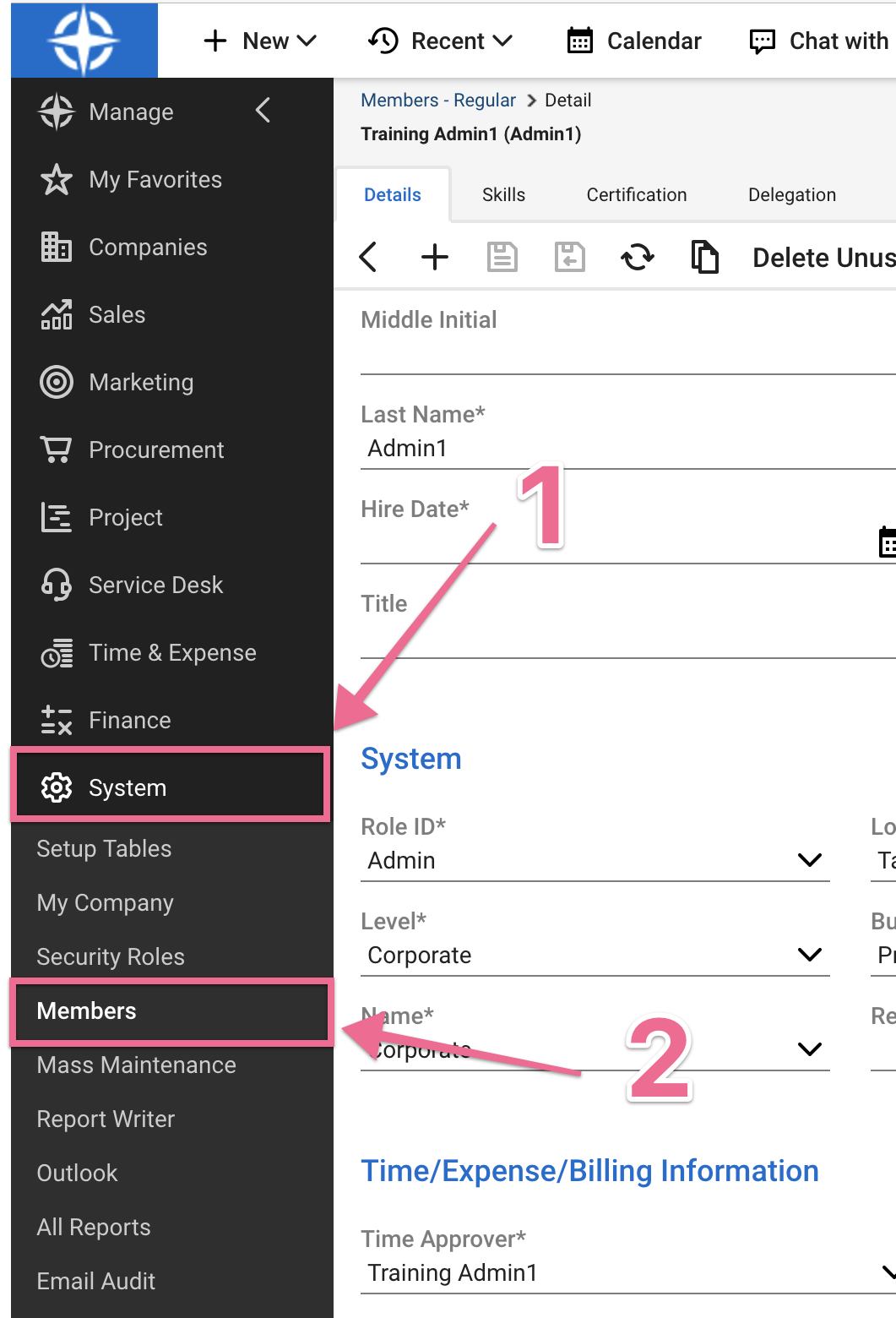 You'll now need to create a new API Member. Luckily this does not count against your regular user licenses. To do so, click on the API Members tab at the top (#3) and then click on the plus (+) sign to the left (#4)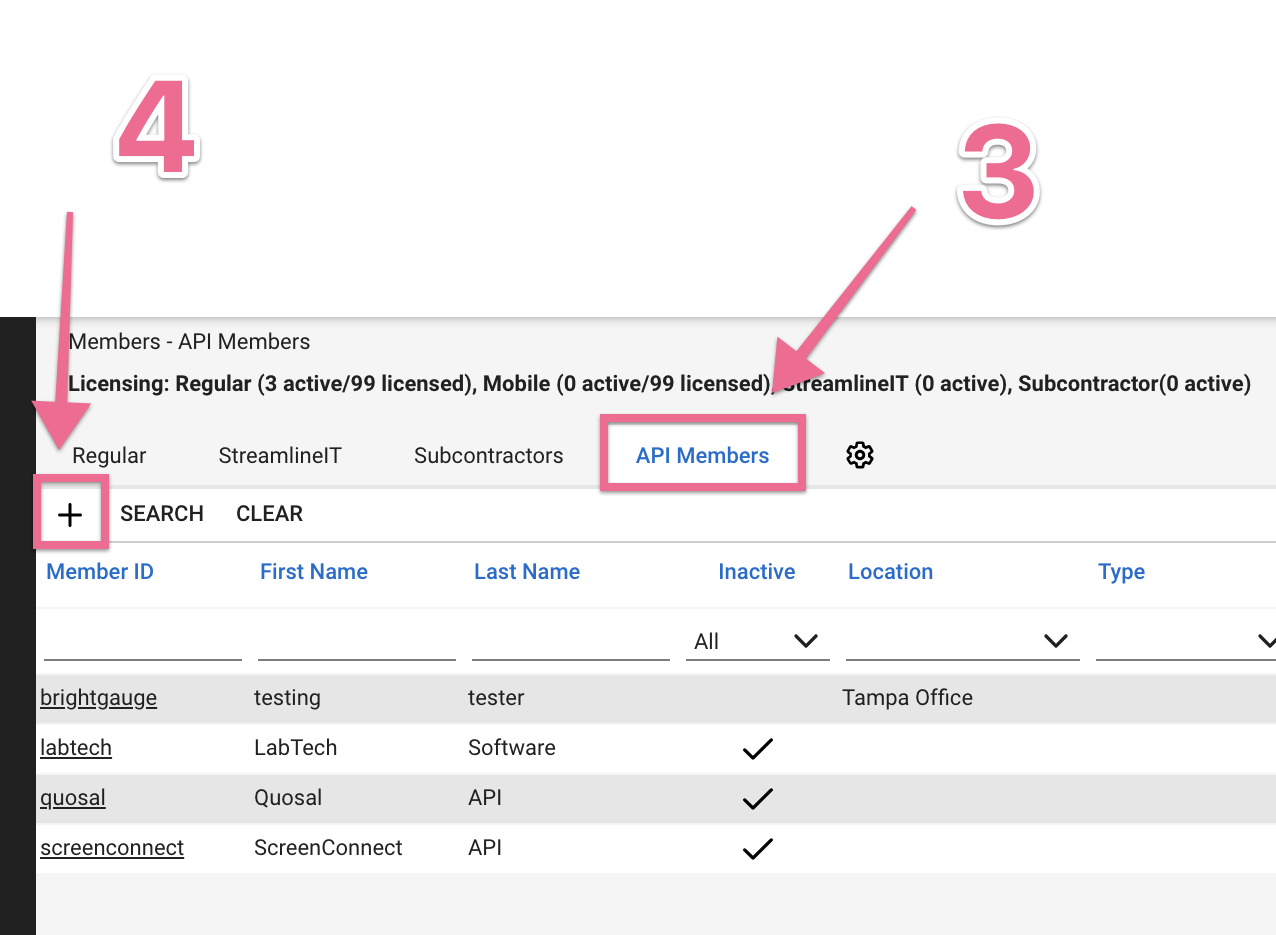 Make sure to fill out all required fields. The password field will be blank. Giving this user a role of Admin is not required, but having the wrong access level can cause data issues, so using an Admin role is best. Before 2018.5 there were a few settings that were ignored on the Member page. In order not to restrict which service boards you can see, you will need to make sure the Level is Corporate and the Name to the only option available. Once done, click on the save button to the top.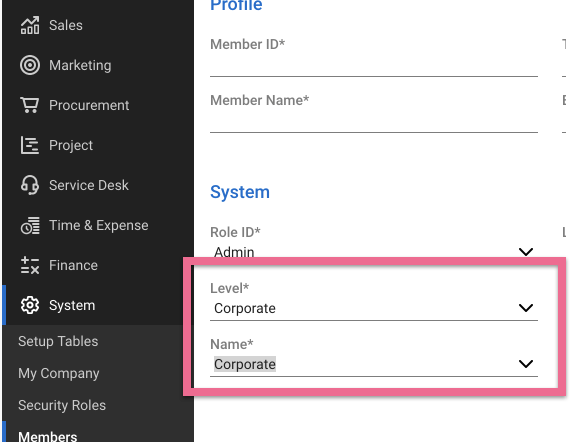 Once created, you will now need to generate API keys. Click on the API Keys tab at the top (#5) and then the plus sign to the left (#6)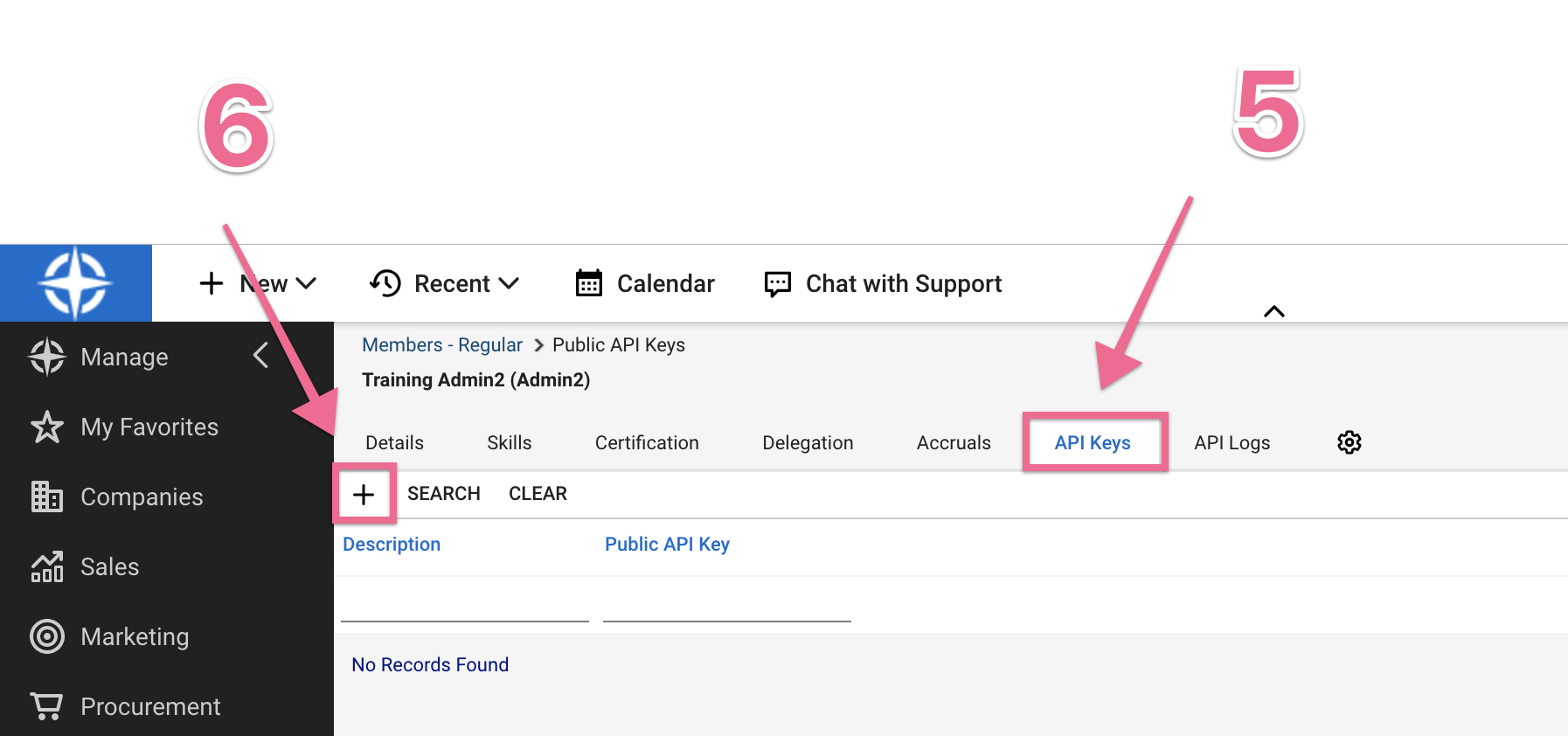 You'll be asked to create a descriptive name for this key. You can create anything you want here, just make it descriptive. Once done, you'll need to save (click on the Save icon, above the words "Public API Key".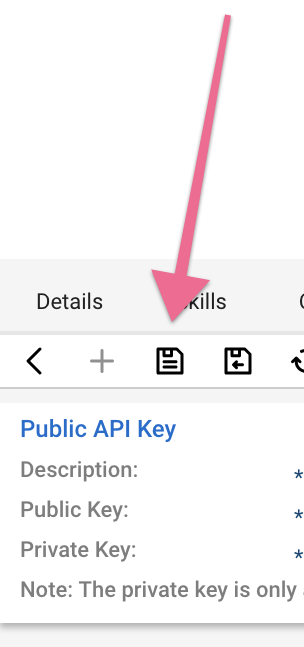 Once saved, the two API keys will show. We need the Public and Private keys. Make sure to save both keys now. While you can access the Public key later, you won't be able to access the Private key later, so if you don't write it down now and need it again later, you'll have to create new API Keys.
Step 3 - Enter in the credentials
Now go back to the screen you came to in Step 1. You'll now need to fill in the fields with the following information:
Name: A name for your integration. You'll see this quite a bit later, so ConnectWise Manage Cloud is probably best
Site: This is the region in which your ConnectWise Manage instance is hosted. It's most notable by the URL you use to login to Manage
Company ID: This is ConnectWise Manage's formatted name for your company. It's the same as when you login to Manage
Public Key: This is #10 from Step 2 above
Private Key: This is #11 from Step 2 above
Your Locale: This is your country/region for CW. It will allow for deep linking.
Step 4 - Test Connection
Once you've filled out all of the fields, make sure to test the connection. If successful, save the connection.
Please note, a common issue we have seen clients experience is with the "AutoFill" feature in web browsers inputting the wrong credentials for the database user field. When a test connection is successful, the page is refreshed and the autofill takes effect automatically without the user realizing. The user then selects save, accidentally saving the autofilled credentials which are incorrect. A way to prevent this issue is to open a private browsing window (or incognito window) to fill out the datasource configuration page, or simply retyping the credentials after the test connection and clicking "Save".
Once you've saved the connection then the datasets and gauges will be added to your account and they will start syncing immediately. Initial syncs usually take 20-30 minutes.
FAQ: Dispatch Portal
If you're newly created BrightGauge user is showing up in the dispatch portal, then there's an easy option to stop that. In the panel where you first created the user, there's a section for scheduling. Make sure to tick the box for "Do not display this member on the Dispatch Portal" and the API user will now disappear.
Dashboards, reports, datasets, and gauges will be added to your account after the datasource is saved. They will start syncing immediately and typically complete syncing after 20-30 minutes.
Your Default Dashboards
Agreement KPIs
BGS - Procurement
BGS - Projects
BGS - SLA
BGS - Service Board
BGS - Service Desk Leaders
BGS Sales Board
Client Dashboard Template
In/Out Board
Member Efficiency
Tech Dashboard
Your Default Reports
Agreement Monthly Review
BGS - Monthly Project Wrapup
BGS - Service Desk Leaders
BGS - Weekly Project Report
CW Hosted Executive Summary Report
Member Efficiency - Current Week
Member Efficiency - Today
Your Default Datasets
Activity Data -

Data for Activities updated in the last 120 days

Agreement Addition List -

This dataset looks at additions for agreements

Agreement Data -

This dataset is a listing of all agreements in ConnectWise with an end date in the last 365 days or no end date entered. Cancelled agreements are also not included

Agreement Data Monthly Last 3 Months -

This dataset looks at agreement invoices, hours against the agreement, and addition costs by month to give you statistics on how the agreement is performing. The data is for the last 3 months only

Assigned Resources Last 120 Days - Data for schedules on tickets. This allows you to see individual technicians scheduled for tickets. This is only for schedules updated in the last 120 days

Assigned Resources Last 14 Days - This dataset pulls in scheduling information only for schedules on tickets updated in the last 14 days or that are open

Company Data -

This dataset pulls in data for companies setup within ConnectWise. This gives 1 line per company and has information contained within their company setup. This pulls in all, non-deleted companies

Configuration Data -

Data for Configurations entered in ConnectWise

Configuration Questions and Answers -

This dataset allows for one to see the questions and answers associated with Configurations. This means a single configuration will show multiple times if it has many questions. This dataset only shows active configurations with questions

Configuration Ticket Statistics Last 240 Days -

This dataset is a clone of ticket statistics to show information on attached configuration. A single ticket will show 3 times if there are 3 configs. This is only for tickets updated in the last 240 days

Contact Data -

This data shows you contact information for contacts in ConnectWise. This dataset can be used in dataset mashups to see data for those without information (an advanced feature)

Invoice Data -

Invoice data updated in the last two years

Member Data -

This is a dataset to look at data for your current users setup in ConnectWise

Opportunity Data -

Data for Opportunities updated in the last 365 days

Products -

ConnectWise products purchased within the last 2 years

Project Phase and Tickets -

Data for the individual phases of a project and any associated tickets. This pulls in data for all open projects (no actual end date has been set) or for phases updated in the last 240 days

Project Statistics -

A wholesale look at projects open or updated in the last 240 days

Purchase Orders -

Purchase orders updated in the last 365 days or currently open

Sales Orders -

Sales Order information for orders updated in the last 365 days

Service Boards -

Service board data as they appear in your ConnectWise instance. This dataset will also allow you to see the scheduled on call technician associated with each service board

Survey Responses -

This is a dataset to see surveys received in the last 120 days

Ticket SLA Data Live -

This is a dataset to see SLA data for live tickets. NO closed or resolved tickets in this dataset. The time to goal fields in this dataset are only applicable before they hit the associated SLA level (response, resolution plan, resolution)

Ticket Statistics Last 240 Days -

Data for tickets updated in the last 240 days. This is meant for longer, trending data

Tickets Stats Last 14 Days -

Data for tickets updated in the last 14 days or not closed. This is a fast syncing dataset meant for dashboards

Time Entry Last 120 Days -

This dataset is to see time entries from the last 120 days
For a list of all default gauges, please visit the "Gauges" section of your account, sort by the Datasource you'd like to see and select for Default.
If you have any questions, don't hesitate to ask us at support@brightgauge.com.