What is BrightGauge? 
BrightGauge is a web based application that serves as a data visualization and centralization tool for your current PSA, RMM, and Finance software(s). We help you get the most out of your data source(s) by accessing, grouping, and simplifying data that most of these tools have "hidden"/stored in their databases across multiple tables without a simple way to display or report on. Apart from accenting each software individually, BrightGauge allows you to bring together multiple data sources into our platform, whether it's an on-premise system with our secure agent or connected via an API to a hosted provider. These tools are typically built as silos with limited interoperability. Each has its unique strengths, but they keep their proprietary content "locked" internally, leaving gaps and incomplete coverage in your business. We help you break down the barriers of these data silos and bring all your key business data together.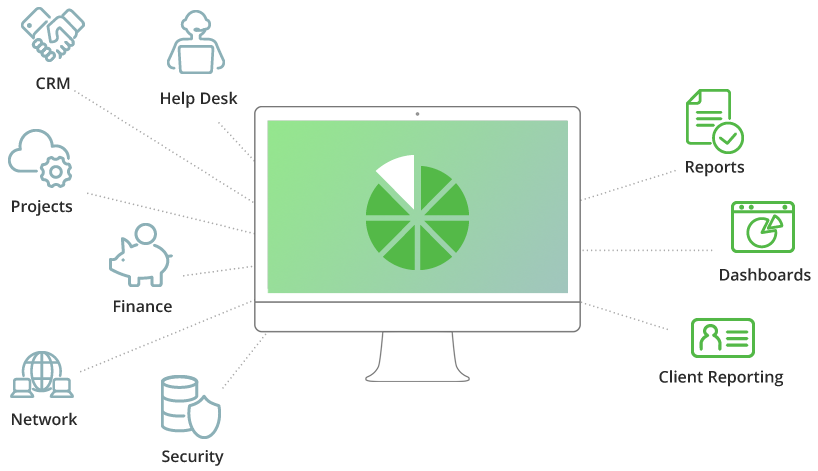 In order to help you leverage your data, there is a three step process from your datasource to the end result visualization that we will define now and explain later.  The key definitions are:
Datasets - The Raw Data we extract from your datasource, normalize a bit (like dates), and then make available to you to create visuals.
Gauges - These are the visualizations of the data.  The charts, numbers, lists, or tables that are created as representations of the raw data.
Reports & Dashboards - These are the areas where you can place your gauges for regular viewing.  
Now that you have that basic understanding, read below for key differences and more detailed definitions of each of these terms. 
Datasets vs. Gauges 
Datasets and Gauges are what power the BrightGauge app; datasets serve as a backbone while gauges serve as a brain per se.
Datasets are essentially (and most times literally) SQL queries that pull in and consolidate data that is stored in different tables across a data source's database. 

 e.g. PSA softwares may keep basic information for a service ticket (such as title, date opened, date closed, etc.) in one table of a database and the tickets SLA information (such as response time and resolution time) in a separate table. Datasets in our app can query information from both of these tables and consolidate into one place.
| | |
| --- | --- |
| Once data is pulled into BrightGauge as datasets, it is represented in the form of fields that can then be used to construct Gauges. Gauges are the modules or widgets that provide visual representations of your data using these fields queried by datasets. Examples of fields were mentioned in the previous dataset example (title, date opened, date closed, response time and resolution time). |   |
Gauges use these fields to display information in the form of several charts such as tables, vertical bar graphs, line graphs, horizontal bar graphs, pie charts, number headings, lists, and tables.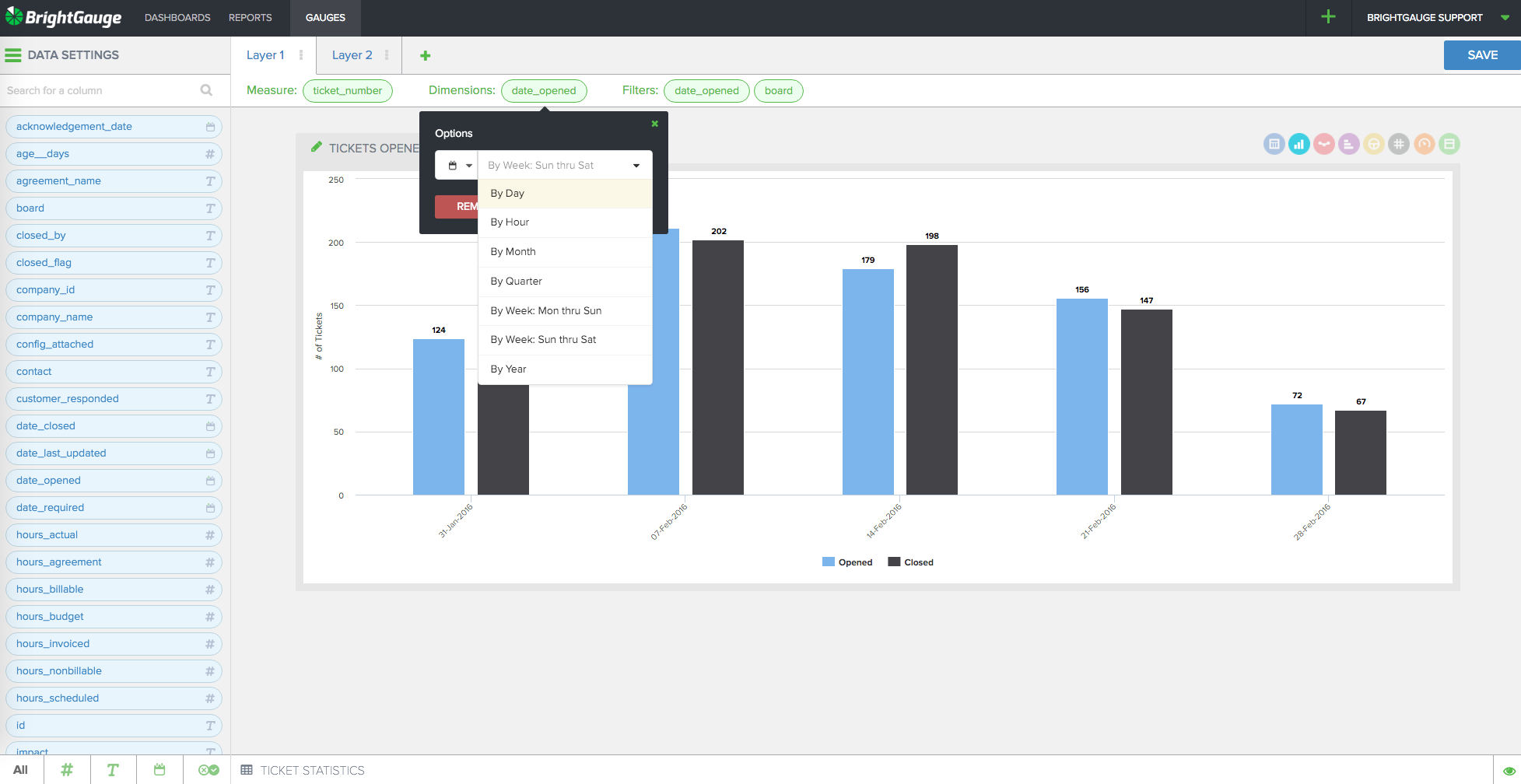 Our powerful gauge builder allows you to customize the gauge to your needs. Once the gauge has been filtered down and customized to your needs you don't have to update it again. 
Dashboards and Reports are both tools that are built off of Gauges and are used to group, display, and share data. Just like Gauges, Dashboards and Reports are customizable and can be tailored to best fit your needs.
| | |
| --- | --- |
| | Think of Dashboards essentially as "bulletin boards" to which Gauges are pinned to. They are rapidly syncing and allow you to have the key information you need at your fingertips in real time. With just a couple of clicks distribute dashboards to individuals, teams, or even your clients. |
| | |
| --- | --- |
| Dashboards are web based, allowing you to display them on any device and they will resize to fit the screen size/resolution. Great for TV displays around the office, heads up displays (HUDS) for your team. |   |
| | |
| --- | --- |
| | Reports allow you to securely share snapshots of the metrics most important to you via email with the right people, giving them the information they need to make decisions. The receiving audience can vary from your internal teams/members to even your clients. |
| | |
| --- | --- |
| Information can be filtered for the necessary audience and then sent on demand or on a pre-defined schedule helping keep everyone on the same page, making it easy to stay on top of your KPIs no matter where you are. |   |
Where can you find more information?
For more in-depth explanations on the terms and features mentioned above, please feel free to refer to the following Knowledge Base articles from our Support Forum:
For detailed feature questions, the Support section of our website provides shortcuts to all of our tools available to facilitate you, including our support forum and knowledge base articles.
For a further overview of our app including its features, pricing, and integrations, please feel free to visit our main BrightGauge Website. If you have any questions that out website did not cover, drop us a line via our Contact Page and we will be glad to assist you in your inquiry.