What is BrightGauge?
BrightGauge is a data intelligence and visualization platform that helps you create Dashboards, Reports, and Goals with data from the apps and services you use every day.
We help you get the most out of your data by grouping and simplifying data that most of the software you use has hidden or stored in their databases across multiple tables, without a simple way to display or report on. This is where BrightGauge comes in.
BrightGauge allows you to bring together multiple data sources into our platform, whether it's an on-premises SQL system or connected via an API/ cloud. We help you break down the barriers of these data silos and bring all your key business data together. Because BrightGauge brings your data into one place, you can use BrightGauge to audit the data in your other systems and ensure that your data are up-to-date and complete.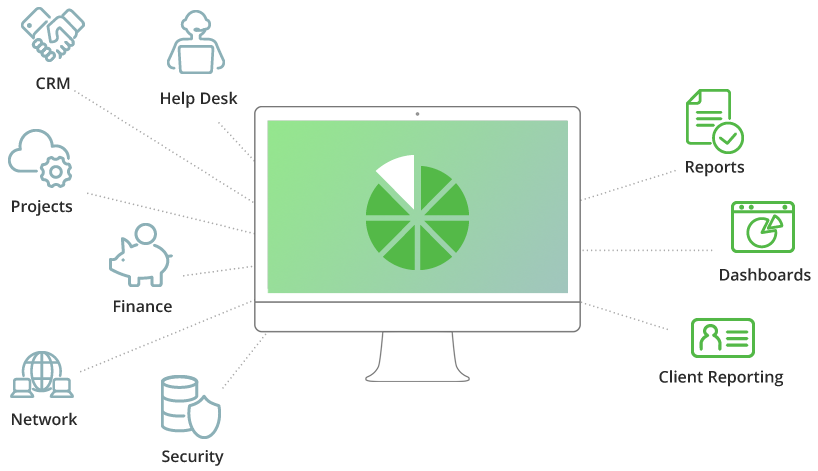 The main components of BrightGauge
Datasets

- The Raw Data we extract from your datasource, normalize a bit (like dates), and then make available to you to create visuals.



Gauges - These are the visualizations of the data. The charts, numbers, lists, or tables that are created as representations of the raw data.

Reports & Dashboards - These are the areas where you can place your gauges for regular viewing.
Goals - Track personal and company-wide goals with weekly check-ins. These can be manual or auto-populated with data from gauges.
Video: BrightGauge Overview
Datasets
Datasets are made up of the unique data points pulled from your datasource.
Used to create gauges, datasets are essentially SQL queries or API calls that pull in and consolidate data that is stored in different tables across a datasource's database.

For example, PSA software may keep basic information for a service ticket (such as title, date opened, date closed, etc.) in one table of a database and ticket SLA information (such as response time and resolution time) in a separate table. BrightGauge datasets can query information from both of these tables and consolidate into one place.
Gauges
After data is pulled into BrightGauge as datasets, it is represented in the form of fields and datapoints that can then be used to construct Gauges. Gauges are the finished KPI (Key Performance Indicator) that you produce to use in a Dashboard, Report, or possibly a Goal.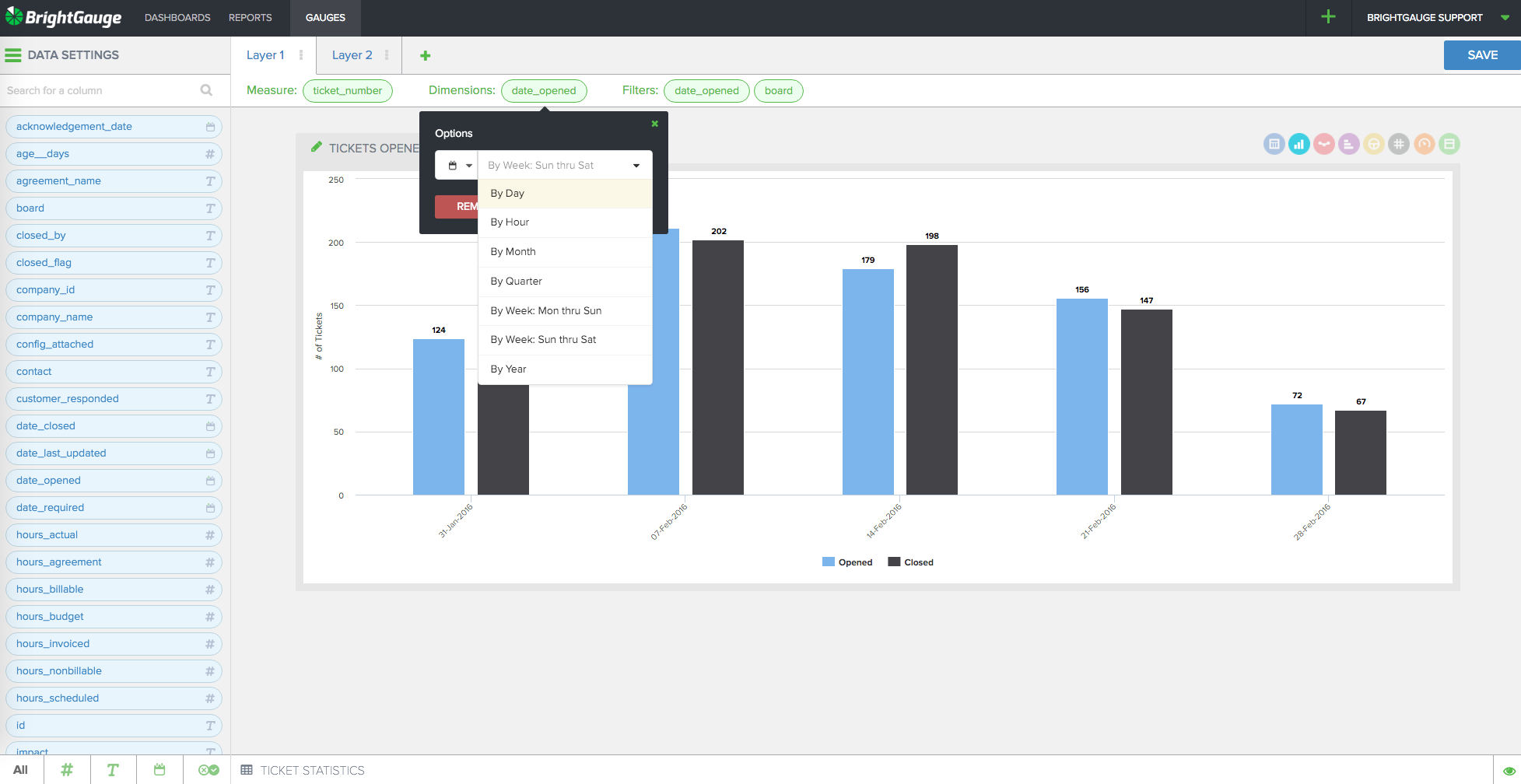 Our powerful gauge builder allows you to customize the gauge to your needs. After the gauge has been filtered down and customized to your needs you don't have to update it again.
Dashboards
Dashboards are web-based, allowing you to display them on any device(computer monitor, TVs, mobile) and they will resize to fit the screen size/resolution. They're great for TV displays around the office for Heads Up Displays (HUDS).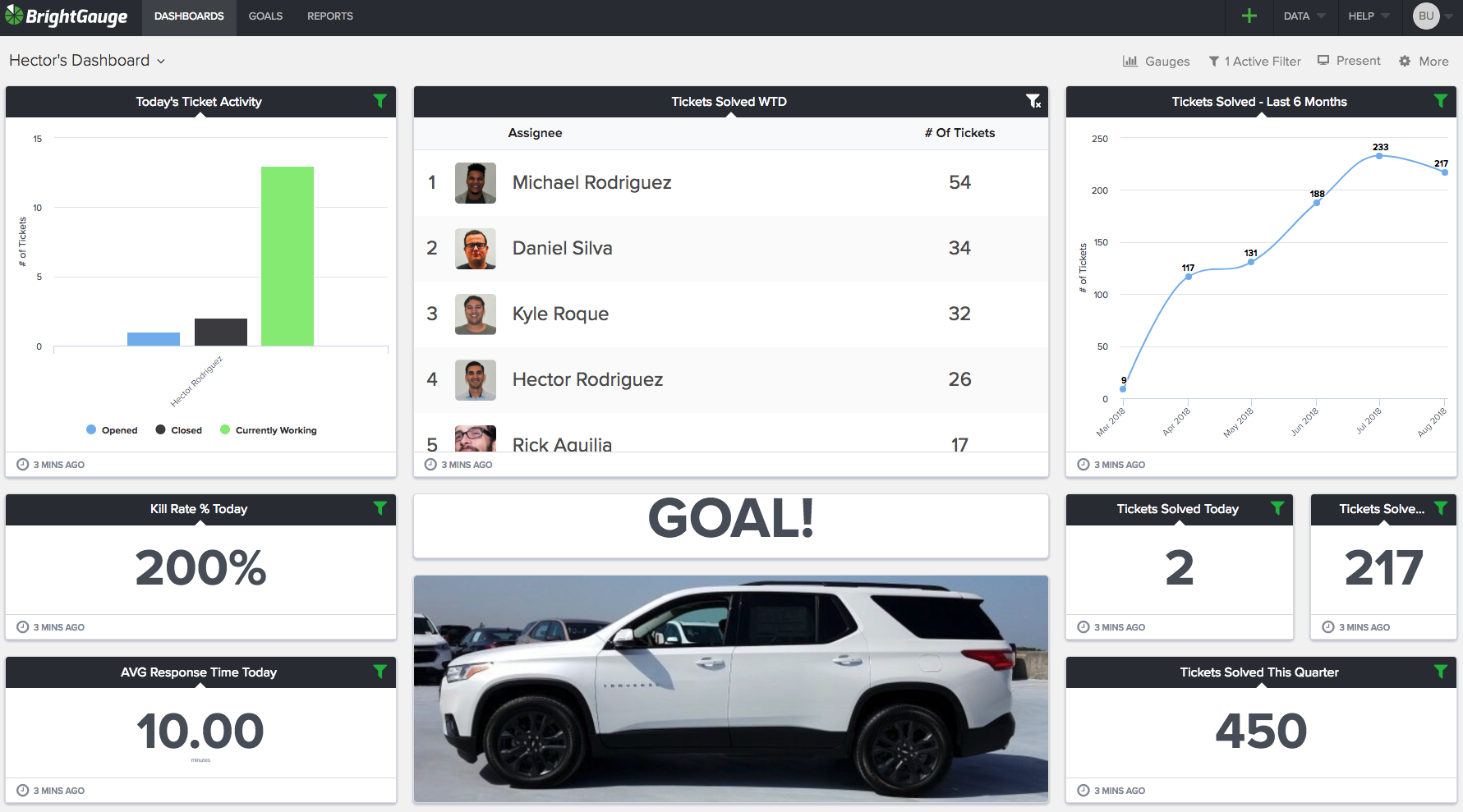 Reports
| | |
| --- | --- |
| | Reports allow you to securely share snapshots of the metrics most important to you via email with the right people, giving them the information they need to make decisions. The receiving audience can vary from your internal team members to even your clients. |
| | |
| --- | --- |
| Information can be filtered for the necessary audience and then sent on-demand or on a pre-defined schedule, helping keep everyone on the same page while making it easy to stay on top of your KPIs no matter where you are. | |
Goals
BrightGauge includes the ability to track your goals over weekly periods of time. These can be populated with data manually week by week or you can use a Gauge to auto-populate data for you every week. Once you check in the data, it will either be configured as green or red depending on the goal you are trying to reach.