ConnectWise Manage handles merged tickets and child tickets two separate ways in the background, so here's a quick cheat sheet on how that works on Brightgauge:
ConnectWise Manage Cloud
By default, we include child tickets on our Cloud datasets. If you want to exclude them from your gauge, just add the 'parent' field as a filter and set it to 'parent is null':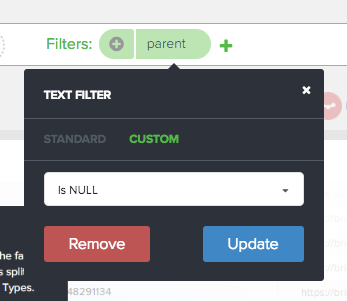 Unfortunately, at this time ConnectWise does not provide a way to detect merged tickets through the API. This means that unlike child tickets, we can't filter for those on BrightGauge right now. Should this change, we'll be sure to add a "merged" field to the dataset to help you filter.
ConnectWise Manage On-Premise
By default, we exclude all child tickets from our On-Premise datasets. You don't need to do anything. We exclude them as they increase the likelihood of the datasets timing out. If you would like to see child tickets - reach out to Support and we'll see if it's something we can do.
If you're seeing merged tickets and would like to either filter by them or remove them altogether, let Support know and we'll take care of it.