Before you begin using BrightGauge you need to set up a datasource. Datasource is an application you currently use and will be integrating with BrightGauge. These integrations come in the form of PSA, Finance, RMM, Support and Backup tools, direct database connections, and more.
There are two types of datasource connection types you may work with:
Cloud or API hosted. For most API datasources, you only need to provide login credentials and an API key for the services to talk to each other.
On premises. To have an on premises connection means to locally host your datasource through your own server. Generally, on premises datasources are able to pull in more data than cloud-hosted datasources.
Connecting to a Cloud-based Datasource
Easy to connect to, cloud-based datasources require very little steps to get connected - most often, just an account admin's login credentials and an API-key.
Available Cloud Datasources
The following cloud-hosted datasources are available for connection to BrightGauge.
PSA
Finance
RMM
CSAT
Backup
Security
Other
Connecting to an On Premises datasource
To connect to an on premises datasource, you first need to visit your Datasources panel and select "Add a New Datasource". After selecting your datasource, you'll find documentation details, a link to the latest version of the BrightGauge agent, and a prompt to connect your firewall to our listed IPs. For all on premises datasources, you'll need to download the BrightGauge agent and secure our IPs within your firewall permissions.
Available On Premises Datasources
The following on premises datasources are available for connection to BrightGauge.
PSA
Finance
RMM
Database
Other
Setting Up the BrightGauge Agent for your On Premises Datasource
The agent runs as a service and only passes the queries needed by BrightGauge to your systems, and encrypts the raw data that it sends back. It can be installed on any Windows server or workstation that has access to the databases you'd like to connect to BrightGauge.
Step 1 - Choose Host Machine For Agent
You can have just ONE agent for all datasources if they are on the same internal network.
Select a machine (windows server or workstation) that has access to the database servers that have the database you'd like to work with installed. This machine is where you install the BrightGauge Agent and where BrightGauge securely connects from the Internet.
You may also install the agent on your database servers, as long as they are open for BrightGauge to connect from our External IP address.
Agent System Requirements
.Net 4.0. The BrightGauge Agent uses .NET 4, you can download and install that ahead of time here.
500 mb RAM free (2 gb+ recommended). Please note this is a "free" requirement as the agent temporarily stores data in the ram after getting it from your SQL server and before passing it to our servers.
Consistent uptime, as anything less will affect syncs.
Step 2 - Firewall Rules
You will need to open up your firewall to allow communication from BrightGauge through a specific port to your hosting machine. We recommend Port 2666. You can find the BrightGauge IP Addresses when connecting the datasource in your BrightGauge portal right next to the link to download the agent.
You may also email us at support@brightgauge.com for our IP Addresses.
NOTE: Even when the Windows Firewall is turned off, it still may block traffic. Please create an advanced port exception in the firewall on the machine you choose to install the agent on. Instructions on that can be found here.
Step 3 - Install Agent
You may download the agent by visiting your BrightGauge account. If this is the first time connecting a datasource, you'll see the available options immediately, otherwise head to Account Settings -> Datasources (Click on the down arrow next to your name at the top right). Select the appropriate datasource and at the top, you'll see a link to download the agent as well as the IP addresses for our servers (if you want to limit the firewall exception created in step 2). To install on Windows Server 2008 and later (Windows Vista and later for desktops), make sure to run the install as an administrator:
Right click on the installer -> run as administrator
OR
Right click on the installer -> properties -> compatibility -> run as administrator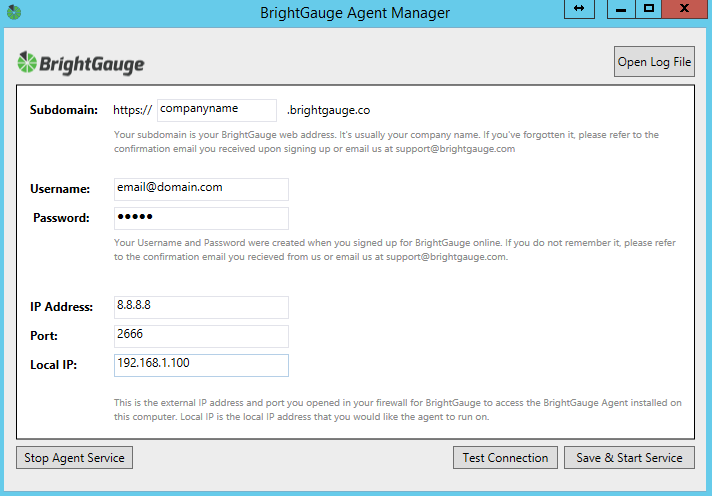 Step 4 - Configure Agent
When running on Windows Server 2008 and later (Windows Vista and later for desktops), make sure to run the BrightGauge Manager as an administrator:
Right click on the Manager Desktop Shortcut -> properties -> compatibility -> run as administrator
You'll need the following:
Your BrightGauge portal, username, and password, all of which were emailed to you when you first signed up with BrightGauge.
IP Address: Refers to the IP address that BrightGauge will hit when connecting to your network (Public IP).
Local IP is either the local IP of the box behind a NAT, or if your box is exposed to the internet it is the public IP of that machine.
After all information is filled out on the agent, click on "Test Connection". If your test is successful, proceed to click on "Save & Start Service" and refer to the corresponding article for your datasource. Datasource connection documents.
Request a Datasource
We're constantly adding to our growing list. If you don't see your datasource of choice listed above, you may request it via our support team.