Is there a value missing from your standard text filter drop-down?
Well here is a break down of how our standard text filter drop-down works.
This list by default shows the first 100 fields (alphabetically), but the search box can be used to find a specific value.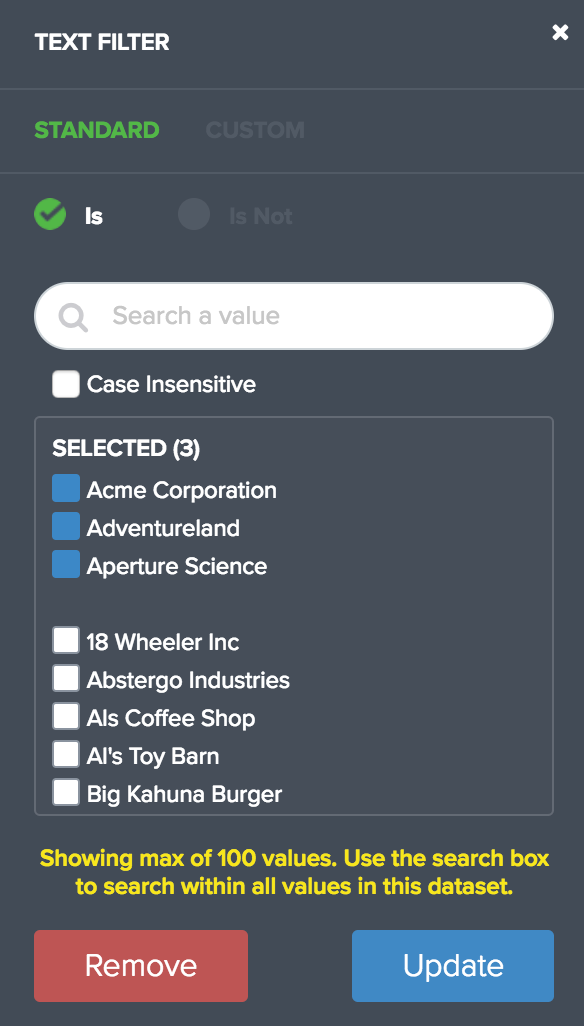 Also, please note that if the value you're looking for is not currently in the dataset, then it will not show in the checklist.  
Ex. The company filter in the screenshot above was added to a gauge built from a ticketing dataset. In this case, if there are no tickets currently in that dataset for a specific company, then that specific company's name will not appear in checkbox list for the "company name" field.
This said, there are two possible workaround options for this:
Create a "test" ticket under that company and sync your dataset. 
Use the "custom" filter option, select the desired condition, and manually type in the filters. This option can be used to set a filter for a value that you know will appear in the future. For further information regarding filters, please feel free to refer to the following article: 

Gauge Filters Explained