ConnectWise Automate Cloud has released Patch 20.0.1.51 on January 13, 2020.
As part of this patch release, all users who have upgraded will have Multi-factor authentication (MFA) automatically set to enabled for their account.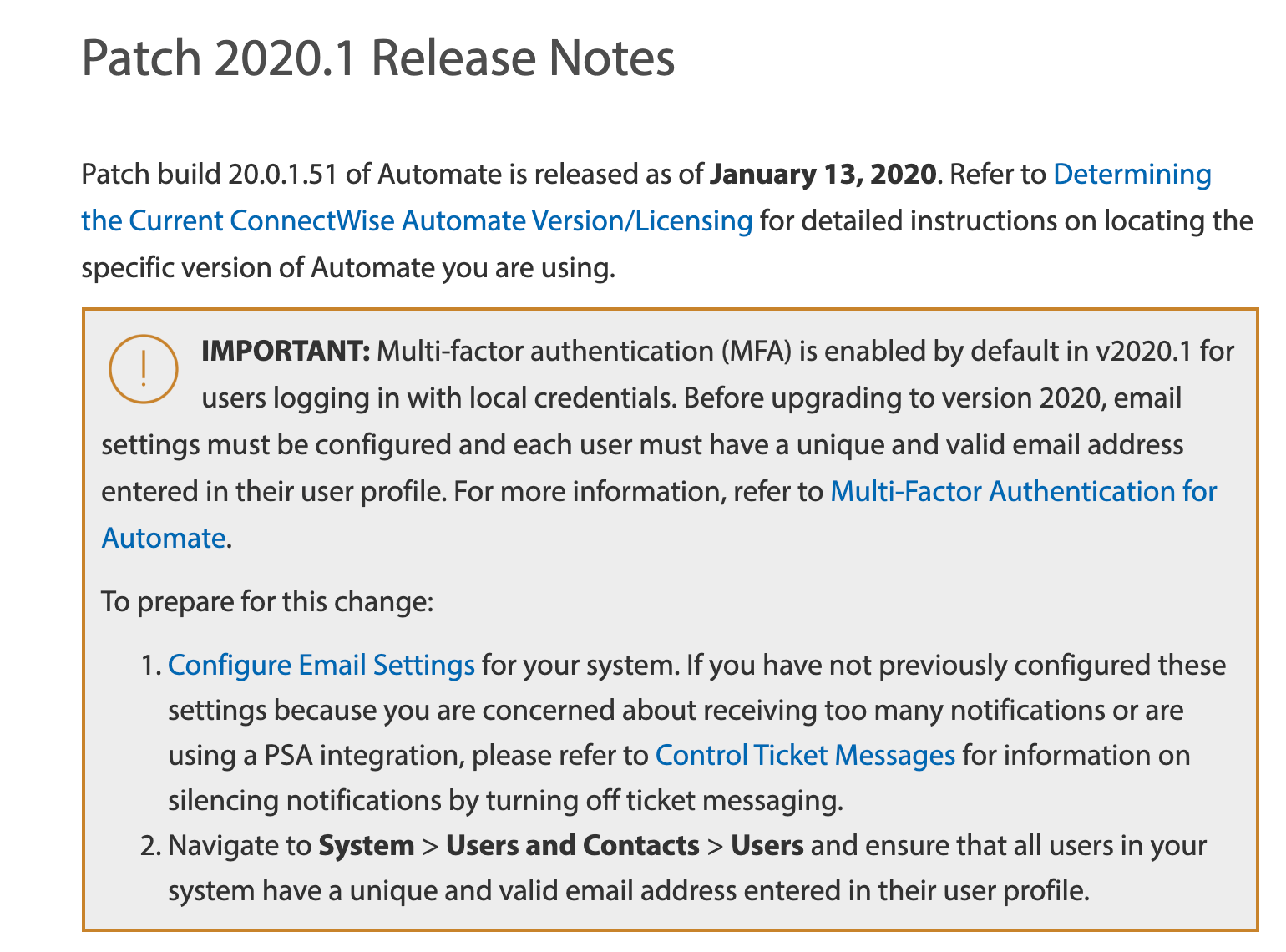 Bypass Default Multi-Factor Authentication for Integrator Users
To prevent any sync interruptions in BrightGauge, partners pulling data in via the ConnectWise Automate Cloud datasource will need to take action. Immediately after updating to the new patch version, you will need to bypass Multi-Factor Authentication for the Integrator User designated to authorize Automate in BrightGauge to avoid having to re-authenticate the connection between BrightGauge and Automate on an hourly basis.
The user account used to authenticate Automate in your BrightGauge with MFA left enabled will experience sync interruptions.
To avoid any interruptions to your syncing, please follow these steps post updating to the latest version of Automate:
In the Control Center, navigate to

System

>

Users and Contacts

>

Users

and double-click on an integrator user.
Select the

Integrator checkbox.

Click

Save.
We recommend clicking on the

Permissions

tab to verify that the integrator user account is assigned limited permissions.
Save any changes.
Please DO NOT delete/re-add the datasource from your BrightGauge account, as doing so will delete all datasets and gauges tied to it.
More information regarding these updates and steps required within CW Automate can be found in the following article:
CW University - Multi-Factor Authentication for Automate
Note: No action is required by CW Automate On-Premise users.
Please submit a ticket if you need any help further troubleshooting this issue.